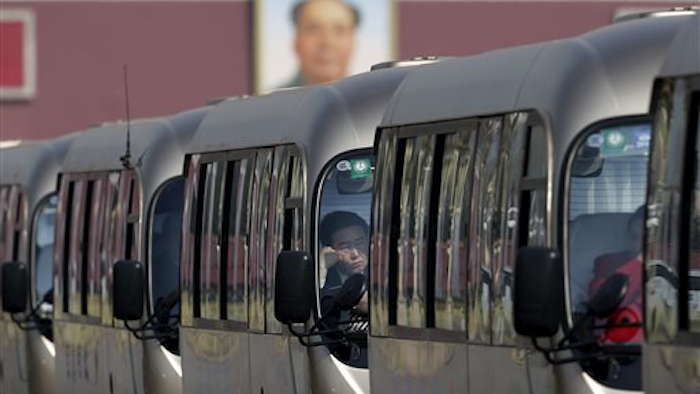 China set a lower economic growth target for this year and promised to open more industries to foreign investors as it tries to make its slowing, state-dominated economy more productive.
The growth target of about 7 percent, down from last year's 7.5 percent, is in line with efforts to create a "moderately prosperous society," said Premier Li Keqiang in a report Thursday to China's ceremonial national legislature. Last year's actual growth was 7.4 percent, the lowest since 1990.
The ruling Communist Party is in the midst of a marathon effort to guide the world's second-largest economy to slower but more self-sustaining growth based on domestic consumption and services. It is trying to replace a worn-out model driven by trade and investment in construction and heavy industry that has left China's air and water badly polluted.
"We need to maintain a proper balance between ensuring steady growth and making structural adjustments," said Li in the report to the National People's Congress in the Great Hall of the People in central Beijing.
The full session of the 2,964-member NPC usually is limited to endorsing policy decisions already made by the ruling party but serves as a platform to publicize reform initiatives and set a tone for government work.
Communist leaders say they are comfortable with the slowdown that President Xi Jinping, invoking an American phrase, has dubbed "the new normal." But in a sign they are afraid of a politically dangerous spike in joblessness, they have tried to spur activity with two interest rate cuts since November and a reduction in business taxes.
Li promised to give entrepreneurs and foreign investors a bigger role in an economy that after three decades of market-oriented reforms still is dominated by government-owned banks, oil producers and other companies.
Beijing will cut in half the number of fields in service and manufacturing industries in which foreign investment is restricted, the premier said. He gave no details but the change has long been sought by foreign companies that face a thicket of restrictions and feel increasingly unwelcome.
The chairman of the American Chamber of Commerce in China, James Zimmerman, said in an email its member companies "share the premier's hopes for a stable, fair, transparent and predictable business environment" and look forward to the promised streamlining in regulation.
China's growth has declined steadily since it peaked at 14.2 percent in 2007. Much of that reduction was intentional as Beijing tried to cool inflation and a debt-financed boom in construction and investment. Efforts to promote consumer spending have been slow to gain traction at a time when many workers are uneasy about their financial futures.
The International Monetary Fund expects growth to fall to 7 percent this year and a Cabinet think tank, the Development Research Center, says growth will decline to 6 percent next year.
"I don't think there's too much to worry about," said Yi Yanli, an NPC delegate from the northeastern province of Jilin who is CEO of Adayo Group, a maker of automotive electronics. "I think it's headed in a pretty good overall direction and that hasn't really changed."
China's slowdown has cut demand for iron ore and other commodities that drove economic booms in Brazil, Australia and other countries. But if Beijing succeeds in building up a consumer market, that could boost demand for other imports ranging from higher-quality food to Hollywood movies.
In a separate report, the Cabinet's planning agency promised to "improve the environment for consumer spending" by improving social welfare systems to reduce the need for Chinese households to save so much to pay for retirement and medical care.
Li, the premier, warned China's economy still faces problems including a scarcity of credit for private companies and a low level of innovation.
Li's most concrete promises were in areas that are considered politically easy. He avoided detailed promises in more fraught areas such as changing the status of politically influential state companies that benefit from subsidies, monopolies and other favors. Reform advocates say they are a drag on development and their privileges must be cut back.
Li said projects led by state companies will be opened to private investment but gave no indication whether outside investors will be given any voice in management.
"There was relatively little new information today on reforms. Mr. Li largely reiterated the reform goals laid out at previous meetings," said Julian Evans-Pritchard of Capital Economics in a report.
The premier set a 6 percent target for growth in trade, a field that employs millions of Chinese workers. Last year's total growth in imports and exports was just 3.4 percent due to weak demand, triggering factory closures and labor tension in the export-dependent southeast.
Li also promised changes in China's state-owned banking industry. He said qualified private investors will be allowed to set up small and medium-size banks, though he gave no details.
He also promised to cut pollution that is choking China's cities and improvements in a range of social areas, including education and poverty alleviation. He said Beijing aims to reduce carbon intensity, or emissions per unit of economic output, by 3.1 percent.
In the countryside, authorities will try to finish bringing electricity to the homes of the remaining 200,000 people who still lack it, the premier said.
Li gave no update on the status of anti-terrorism crackdowns being waged by Beijing in restive ethnic minority areas in Tibet and the northwestern Muslim region of Xinjiang. He repeated the Communist Party's stance that it has improved livelihoods there and is protecting traditional culture.