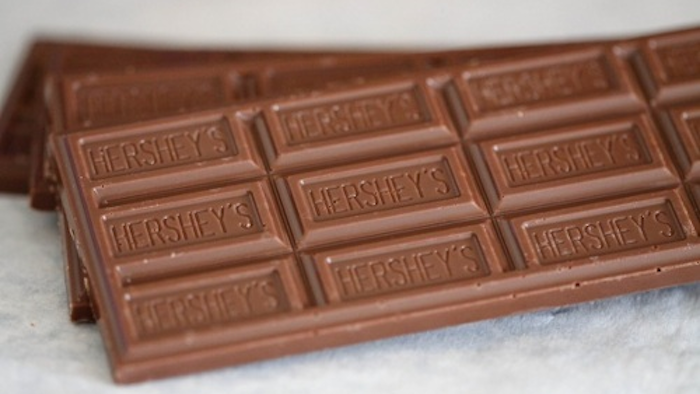 NEW YORK (AP) — Hershey posted a second-quarter loss Friday, with the strong dollar and weakness in China weighing on sales for chocolate maker.
Sales and profit at Shanghai Golden Monkey, Hershey's business in China, have been "significantly" below expectations, the company said.
North America is being pressured as well. Sales rose 1.8 percent versus the same period last year, but volume is down.
The company cut its full-year sales outlook again. It now expects an increase of between 1.5 percent and 2.5 percent, from its June guidance of between 2.5 percent and 3.5 percent. It projected an adjusted profit of $4.30 to $4.38 per share, excluding charges.
Shares fell 2 percent before the opening bell Friday.
Hershey lost $99.9 million, or 47 cents per share, compared with profit of $168.2 million or 75 cents per share, a year prior. Revenue remained flat at $1.58 billion.
Excluding certain acquisition and other costs, the company earned 78 cents per share. That topped Wall Street expectations, with analysts surveyed by Zack's Investment Research expecting 74 cents per share in profit. But, those same analysts expected $1.62 billion in revenue.
Sales rose just under 2 percent in North America to about $1.4 billion, but international sales were dragged down by the stronger U.S. dollar and continued weakness in China.
During the previous quarter, the company also cited weak sales in China as a drag to overall revenue. The company ramped up marketing because of poor sales through Chinese New Year. Discounts and advertising costs cut into profit.
The company's board of directors announced a quarterly dividend of 58.3 cents per share on the common stock and 53 cents per share on the Class B common stock, payable September 15 to stockholders of record as of August 25.
Shares of Hershey Co., based in Hershey, Pennsylvania, have fallen 11 percent since the beginning of the year. Shares fell 46 cents to $92.90 in premarket trading Friday.
____
Elements of this story were generated by Automated Insights (http://automatedinsights.com/ap) using data from Zacks Investment Research. Access a Zacks stock report on HSY at http://www.zacks.com/ap/HSY