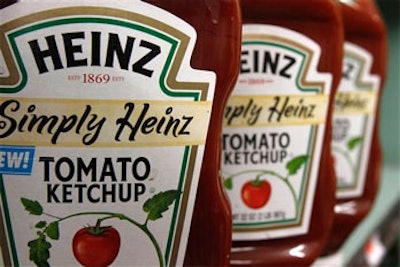 (AP) — The $23.3 billion H.J. Heinz Co. deal announced Thursday would be the biggest deal in the food industry when debt is excluded from the total. The rankings from data provider Dealogic also exclude spinoffs and beverage companies.
Here are the top five food company deals:
—Heinz is being acquired for $23.3 billion by Berkshire Hathaway and 3G Capital, the investment firm which bought Burger King in 2010.
—The previous biggest food company deal was Mars Inc.'s acquisition of Wrigley in 2008 for $21.9 billion.
—Unilever's purchase of Best Foods in 2000 for $20.2 billion.
—Kraft Food's purchase of Cadbury in 2009 for $19.3 billion.
—Groupe Danone SA's 2007 purchase of baby food maker Royal Numiko for $16.8 billion.
—Philip Morris' acquisition of Nabisco in 2000 for $14.6 billion.