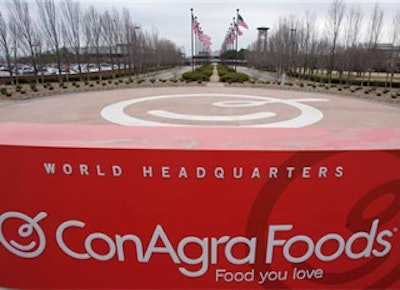 OMAHA, Neb. (AP) — ConAgra's first-quarter net income dropped 42 percent compared with last year when it recorded a huge accounting benefit, but the company still fell short of profit expectations and it cut its outlook for 2014.
The Omaha, Neb. company, whose brands include Chef Boyardee and Marie Callender's, earned $144.3 million, or 34 cents per share, for the period that ended Aug. 25. That's down from $250.1 million, or 61 cents per share, a year ago.
The latest quarter included higher restructuring costs, while the prior-year period including an accounting related benefit of 20 cents per share.
Removing these and other items, earnings from continuing operations were 37 cents per share.
Analysts expected earnings of 38 cents per share, according to a FactSet poll. Wall Street had been predicting earnings of 45 cents per share before ConAgra warned earlier this month that its results would disappoint.
Shares of ConAgra declined 41 cents to $31.66 in morning trading Thursday.
Interest expense nearly doubled, rising to $95.6 million from $49.3 million. Selling, general and administrative expenses climbed to $559.4 million from $450.5 million.
Revenue rose 27 percent to $4.2 billion from $3.3 billion. Wall Street called for $4.29 billion in revenue.
Sales for the commercial foods segment were basically flat. Sales from private-label food maker Ralcorp, which ConAgra acquired in January for about $5 billion, were $942 million. Consumer foods division sales fell partly on lower prices.
ConAgra Foods Inc. expects fiscal 2014 adjusted earnings of $2.34 to $2.38 per share. The company lowered its forecast from its prior guidance of about $2.40 per share earlier this month.
Analysts predict full-year earnings of $2.36 per share.