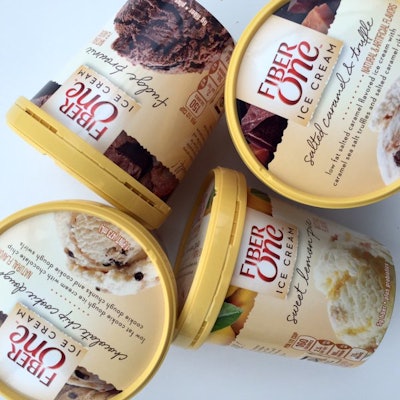 Natural snack maker NightFood Holdings announced Friday that it has agreed acquire Suffield Foods, LLC, and Hook Marketing, LLC, contingent upon NightFood providing ongoing operating capital for Suffield operations.
Hook has been granted a license to manufacture and distribute Fiber One™ ice cream, and conducts operations through its subsidiary, Suffield.
Specific financial terms of the agreement were not immediately made available.
"Over the last several months, we have had acquisition discussions with numerous companies in the snack space. We believe this deal with Suffield represents a tremendous opportunity, and I look forward to working with the Suffield team to help make Fiber One™ ice cream available to retailers and consumers across the country," stated NightFood CEO Sean Folkson.
Ice cream industry veteran and Suffield CEO Frank Everett has been bolstered by the feedback he's received, "With Fiber One™ ice cream, we're delivering a unique set of benefits to the consumer and the retailer. This transaction will allow us access to the capital we need to manufacture, distribute, and support Fiber One™ ice cream at retail."
Distribution plans call for the ice cream to be introduced into several supermarket chains throughout the United States during the first half of 2017, along with broad distribution in supermarkets and drug stores throughout the New York Metro area.
As part of the arrangement, NightFood has agreed to provide Suffield with the operating capital needed to launch Fiber One™ ice cream through the end of 2017, and can consummate the acquisition as early as mid-2017 provided the funding has been completed, and certain other conditions have been met.