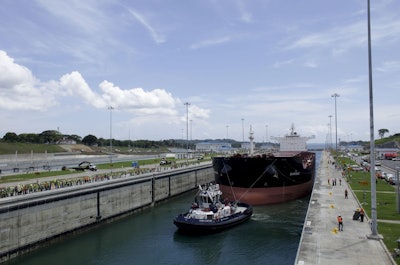 The Panama Canal reportedly saw an "unprecedented" increase in shipping cargo in the first nine months of the year as larger ships gained access to the newly expanded waterway for the first time.

Officials told The Wall Street Journal that through last week, the canal saw a 23 percent increase in cargo tonnage for 2017 to date compared to the same period last year.

The numbers came more than 15 months after construction to expand the more than 100-year-old canal wrapped up. Since late June of 2015, more than 2,000 ships passed through the canal that would not have been able to fit through previously.

The expansion cost more than $5 billion over nine years and included construction delays, labor strife and cost overruns. Critics suggested that a stagnant shipping market meant that Panama would not see the return on the massive investment that it expected.
But executives said that the early returns are promising. The initial cargo increase already resulted in tens of millions in revenue from tolls, and shippers are increasingly choosing to route cargo through the Panama Canal instead of using the Suez Canal in Egypt or alternative transit options.

Executives credited ports on the U.S. East Coast and Gulf Coast, which prepared for the expansion by widening their harbors to accommodate larger vessels. As a result, cargo traffic from Asia can be sent to the Eastern Seaboard rather than to West Coast ports, where it would need to travel thousands of additional miles over land to reach eastern destinations.

The Journal added that container volumes at eastern ports between January and October were expected to be about 30 percent higher than the same period in 2016.

"With the new locks, Panama is preferable for sailings from Shanghai and further north like Korea to ports south of New York," Anders Boenaes of Danish shipping giant Maersk Line told the paper.