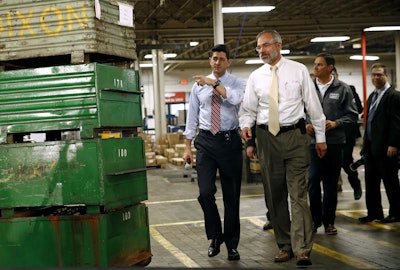 Easing taxes on manufacturers and other businesses is critical to helping America remain competitive in an increasingly global economy, House Speaker Paul Ryan said Thursday during a visit to a century-old manufacturing business on Maryland's Eastern Shore.
Small businesses like Dixon Valve & Coupling are key to America's economic growth but are taxed at significantly higher rates than competitors overseas, particularly in China, the Wisconsin Republican said during his latest stop on a tour to promote the GOP's tax reform plan.
"Some of your biggest competitors are in China," Ryan told a few dozen workers gathered around a makeshift stage on the factory floor.
While China taxes businesses at no higher than 25 percent, Ryan said, the effective rate for businesses like Dixon Valve can approach 40 percent or more.
"When we tax ourselves, especially our manufacturing jobs and businesses at much, much higher tax rates than our foreign competitors tax theirs, it's really hard to compete," he said.
"We have a tax system right now that basically is telling American businesses, 'Don't make things here, and don't stay here.' This is crazy," Ryan added.
Ryan's visit came just hours after House passage of a $4.1 trillion budget plan that envisions deep cuts to social programs while paving the way for a GOP effort to rewrite the tax code.
The Republican plan includes cutting both corporate and individual tax rates and eliminating a variety of tax loopholes. GOP lawmakers say the plan would drive economic growth while also boosting tax revenues.
"Cutting taxes is great for the businesses to make businesses more money, but how is that going to lower my taxes?" Ryan was asked by one 20-year-old worker, who said he was still trying to save money to move out of his parents' house.
Ryan assured the man that the Republican tax plan, which includes lowering rates and doubling the standard deduction, would result in more take-home pay for him.
"You keep more of your own money," Ryan said, adding that Republicans also want to end the marriage penalty, increase the child tax credit and simplify the tax code.
While touting the need to reduce taxes on businesses, Ryan said Republicans also need to do more to sell their tax plan to the middle class, and that he believes Congress can find bipartisan consensus on tax relief.
"We're thinking about the people in this country who are living paycheck to paycheck," he said. The purpose of tax relief is to "give middle-income taxpayers a tax cut, give them a tax break."
Meanwhile, Ryan said, his tour of factories is aimed at promoting ideas to help businesses compete and expand, so that they can raise wages and hire more people.
"It all leads to the same end, which is help people become more prosperous," he said.