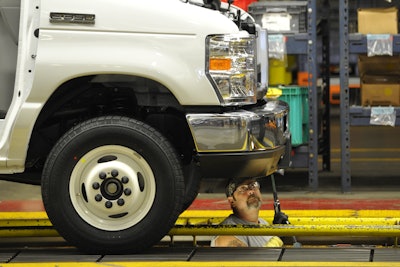 Toyota, Honda, Ford, General Motors, Nissan and Volkswagen all posted strong monthly U.S. sales numbers, confirming expectations that a boost in sales from hurricane-ravaged Texas would push the industry to a September rebound.
GM reported on Tuesday that sales rose 11.9 percent, while Ford sales rose 8.7 percent. Toyota posted a 14.9 percent increase, while Nissan sales were up 9.5 percent and Honda sales rose 6.8 percent. Volkswagen said its sales rose 33.2 percent over numbers that were depressed a year ago by its diesel emissions cheating scandal.
Of companies reporting early Tuesday, only Fiat Chrysler reported a sales decline. The Italian-American automaker posted a 10 percent drop on what it said was a planned reduction of sales to rental car companies.
Industry analysts had predicted a strong month due to Labor Day weekend deals and a small boost from owners replacing cars damaged by hurricanes in Texas and Florida. The auto website Edmunds.com expects overall sales to rise 0.4 percent from last year, but early indications pointed to a stronger increase.
Overall industry sales fell 2.7 percent through the first eight months of the year and were off 1.9 percent in August as Hurricane Harvey battered Texas. Then in September, Irma hit Florida, where many dealerships were forced to close for a week or longer due to lack of electric power.
Ford gained 5,000 to 6,000 sales from replacement of flooded cars in the Houston area, where it offered employee pricing. But it lost about 1,000 in Florida due to closed dealerships, Vice President of Sales and Marketing Mark LaNeve said on a conference call. He expects industry sales to get a boost through the rest of the year from cars being replaced due to hurricane damage.
Ford's F-Series pickup sales rose 21 percent from a year ago, while SUV sales were up 8.8 percent. Inventory levels dropped to a 72-day supply, and LaNeve said Ford may even increase production to raise that a little. Automakers have been trimming production, especially of cars, for much of the year.
Even car sales, which have been battered during the past few years as buyers switched to SUVs and trucks, showed a bit of life. For instance, Toyota's midsize Camry, once the top-selling car in the U.S., posted a 13 percent sales gain as all-new 2018 models reached showrooms. Honda's Accord, once the No. 2-selling car, posted a 9.5 percent increase.
Still, Edmunds predicted that midsize cars would drop to the fifth-largest segment so far this year with just 10.7 percent of the market, the lowest share recorded since Edmunds began tracking numbers in 1991. Midsize cars were the top-selling segment in the U.S. just three years ago, but have been passed by compact SUVs, large trucks, midsize SUVs and even compact cars, Edmunds said.
The positive sales results, though, drove auto shares up, pushing the Standard & Poor's consumer sector higher. Shares of all automakers, save for Tesla, rose in trading Tuesday.
Telsla reported late Monday that it had fallen well short of production goals for the third quarter and shares in the electric car maker were under pressure.