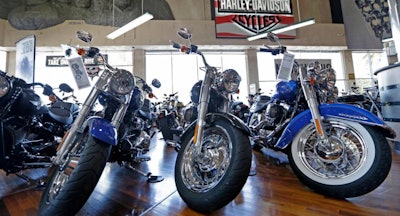 Orders for long-lasting manufactured goods rose a modest 1.7 percent in August, reflecting a rebound in the volatile aircraft sector. A gauge of business investment was up for a second month, providing hope that a revival in manufacturing is gaining strength.
Last month's advance in orders for durable goods followed a 6.8 percent plunge in July, the Labor Department reported Wednesday. Both months were heavily influenced by swings in orders for commercial aircraft, which surged 44.8 percent in August after having plunged 71.1 percent in July.
A closely watched category that serves as a proxy for business investment posted a 0.9 percent gain in August after a 1.1 percent increase in July. Economists believe that U.S. factory output should continue rising in coming months, reflecting a rebound in the global economy.
Manufacturing has been improving since the middle of 2016, following a two-year slump caused by cutbacks in the energy industry and a strong dollar that made U.S. goods costlier overseas. Prospects are brighter now with the dollar weakening in value this year, which makes U.S. exports more competitive on overseas markets, and a rebound in energy drilling.
The overall economy, as measured by the gross domestic product, expanded at a solid 3 percent rate in the April-June quarter after a tepid 1.2 percent gain in the first three months of the year. Analysts believe activity in the current July-September quarter will likely slow a bit, in part because of the devastation caused by hurricanes Harvey and Irma.
For August, orders excluding transportation were up 0.2 percent after a stronger 0.8 percent rise in July.
Demand for machinery rose 0.3 percent while orders for computers and related products fell 2.3 percent. Orders for autos and auto parts rose 1.5 percent after a 2.1 percent drop in July.