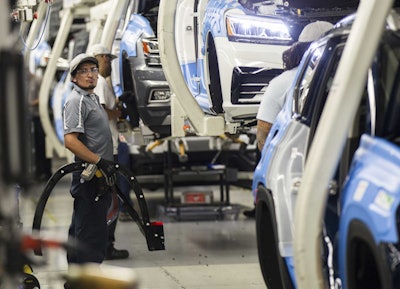 U.S. industrial output plunged 0.9 percent in August, the most in eight years, mostly because of Hurricane Harvey's damage to the oil refining, plastics and chemicals industries.
The storm, which slammed into the Gulf Coast in Texas and Louisiana late last month, lowered industrial production by about 0.75 percentage point, the Federal Reserve said Friday. That suggests production would have slipped without the hurricane.
The Gulf Coast is home to many of the nation's oil refiners, and petroleum is a key component in the manufacturing of plastics and chemicals.
Manufacturing has picked up since last summer as the dollar has fallen in value, which makes U.S. goods cheaper overseas, boosting exports. Manufacturing production fell 0.3 percent last month, though the Fed said that without the hurricane, it would have increased roughly 0.5 percent.
And a survey of manufacturing firms that preceded Harvey found that factory activity rose to a six-year high in August.
Still, the report illustrates how Harvey has disrupted the wider U.S. economy. Jennifer Lee, senior economist at BMO Capital Markets, said the data included signs of weakness, even excluding the impact of Harvey.
"The August decline was widespread, with only the auto industry surprisingly gaining in the month," she said.
Lee cut her estimate for third-quarter growth to 2 percent at an annual rate, from an earlier forecast of 2.4 percent. A drop in retail spending last month was also a factor. But she also expects growth to rebound in the fourth quarter as rebuilding from Harvey and Irma gets underway.
Industrial production includes mining and utilities as well as manufacturing. Utility output tumbled 5.5 percent as milder temperatures on the East Coast reduced air conditioning use.
And mining production fell 0.8 percent last month as Harvey temporarily shut down the drilling of oil and natural gas and refining operations.