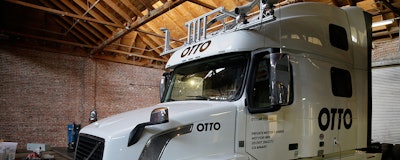 Google's driverless car division long touted the potential of self-driving cars to make roads safer and less congested as it tested vehicles along California roads.

Now, two former employees of the Silicon Valley giant formed a new company in hopes of extending those safety and economic benefits to the trucking industry.

Not everyone, however, is convinced that it's such a good idea.

Anthony Levandowski and Lior Ron worked for Google's autonomous vehicle and maps divisions, respectively, but departed earlier this year to establish Otto. This week, the nascent company introduced itself with a blog post declaring, "It's time to rethink the way we move goods on the road."

Otto now employs 41 people in its San Francisco office, including veterans of Google, Apple and Tesla Motors. The company equipped three conventional Volvo semi-trucks with autonomous driving systems and tested them for more than 10,000 miles to date.

Otto's founders believe that long-haul truckers could eventually put their vehicles on autopilot along large highways and catch up on sleep while keeping their cargo en route to its destination.

Details on Otto's commercial debut and pricing were not available, but the company suggested that incorporating expensive autonomous systems would likely make more sense for massive $150,000 semi-trucks than, for example, a $30,000 sedan.

The company plans to initially focus on truckers that already own their own trucks. In time, trucking companies could buy the systems outright or subscribe on an Otto autonomous service.

Otto officials noted that trucks are a particularly inviting target for the benefits of autonomous driving.

Although they account for 1 percent of vehicles and about 6 percent of miles driven in the U.S., trucks are responsible for nearly 10 percent of driving fatalities and create 28 percent of road-based pollution.

Critics, however, cautioned that the technology could present severe consequences for the trucking industry, which employs one in 15 Americans — including 3 million drivers — and sustains countless small and rural communities.

Otto countered that the country faces a shortage of truckers — who already move 70 percent of the country's cargo — and that demand will only increase with the proliferation of e-commerce.

And although driverless vehicles continue to deal with complicated regulations that vary by state, Otto suggested that its technology is already allowed across millions of miles of U.S. roads.

"Right now, if you want to drive across Texas with nobody at the wheel, you're 100 percent legal," Levandowski told The New York Times.