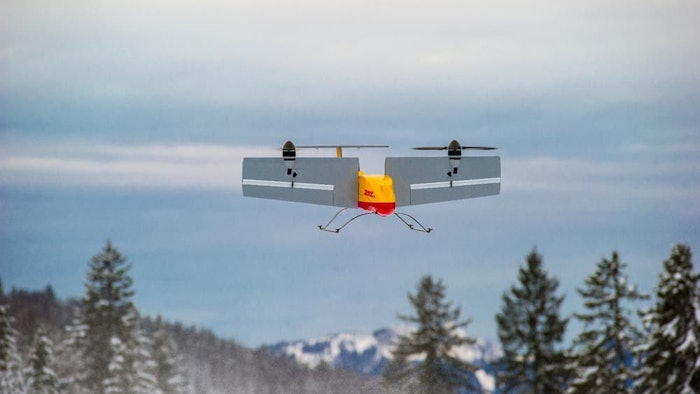 DHL this week announced what it called the first successful integration of a delivery helicopter drone into a parcel supply chain during a trial run earlier this year. 
 
The German parcel delivery company tested the third generation of its Parcelcopter from January to March in Reit im Winkl, a small town along the border with Austria. 
 
During the trial, DHL customers were invited to insert packages for shipping into DHL's Parcelcopter Skyport, which resembles a boxy yellow shed. 
 
When a Parcelcopter arrived, the Skyport's rooftop doors opened and allowed the small aircraft to land on a platform beneath. The system then automatically loaded the package into a compartment on the underside of the vehicle. 
 
The latest Parcelcopter, DHL said, can handle heavier loads and longer distances and conducted the test runs in often-difficult alpine conditions. The company said its journey to a nearby station took eight minutes instead of the 30 minutes that it would take a car.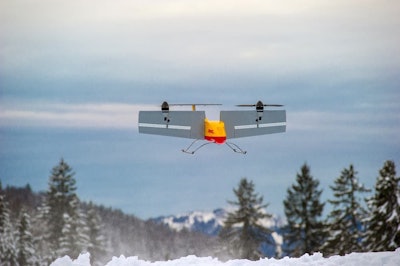 The system completed 130 autonomous loading and offloading cycles during the three-month trial. 
 
"With this combination of fully automated loading and unloading as well as an increased transport load and range of our Parcelcopter, we have achieved a level of technical and procedural maturity to eventually allow for field trials in urban areas as well," DHL Group's Jürgen Gerdes said in a statement. 
 
DHL is among a number of parcel companies and retailers evaluating the use of drones to quickly and cheaply ship packages, particularly in the expensive final miles of their journeys to customers' homes. 
 
Amazon.com — the most prominent developer of the technology — previously indicated that its Prime Air project would be ready as soon as U.S. regulators authorize it.