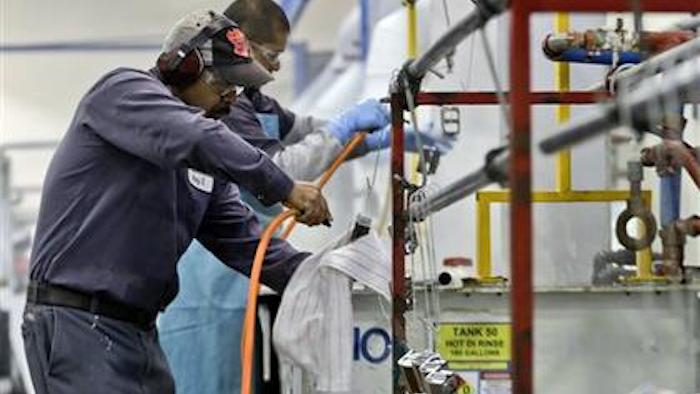 Factory production increased at the fastest rate in four years in 2014, according to the latest monthly numbers from the Federal Reserve.

But the manufacturing sector faces challenges from both a turbulent global economy and capacity limitations at home.

December estimates from the Fed show factory production increased 0.3 percent last month, capping a healthy 2014 performance--and a particularly strong fourth quarter of the year.

Analysts said job gains helped boost consumer spending during the last three months of the year--helping the manufacturing sector--and predicted consumers would continue to spend going forward to due sharp declines in gas prices.

December's output increase was the fourth consecutive monthly gain, and follows a 1.3 percent November increase that saw production eclipse its pre-recession peak.

"Manufacturing has been a growth driver throughout the U.S. recovery from the Great Recession, and will remain so in the near term," said PNC Financial economist Gus Faucher.

Production of computers, clothing, furniture and construction supplies each increased last month, while the mining sector--which includes oil and gas--rebounded from October and November declines by increasing output 2.2 percent. Analysts said oil and gas output is likely to continue at a strong pace in the first half of this year despite a steep drop in the price of crude oil.

Auto production, however, dropped by nearly 1 percent last month after a strong November, though observers noted the sales forecast remains optimistic for 2015. Utility output, meanwhile, fell 7.3 percent last month as warm weather lessened the demand for heat.

The production growth increased pressure on the nation's industrial capacity, with nearly 80 percent of capacity in use. That's just shy of the national average over the last forty years, and likely means manufacturers will need to expand to increase production further and avoid potential inflation.

In addition, manufacturers will also likely need to rely on domestic growth, with the rising value of the dollar increasing prices abroad and tightening markets in Europe and Asia.

The Fed estimates come on the heels of the December report from the U.S. Bureau of Labor Statistics, which showed strong growth in manufacturing jobs last year compared to 2013.