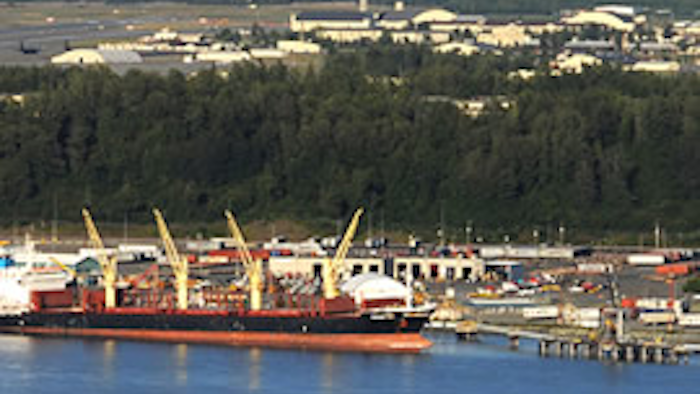 Anchorage's lawsuit seeking compensation from companies that worked on the city's troubled port expansion has been expanded to include a fourth firm.
The municipality last week in U.S. District Court added GeoEngineers Inc. to the lawsuit that includes Integrated Concepts and Research Corp., the project construction manager, PND Engineers Inc., the port designer; and CH2M Hill Alaska Inc.
The municipality claims the four companies failed to properly design, analyze or oversee the port expansion, the Alaska Dispatch News reported. The project has cost $300 million so far and could cost hundreds of millions more to complete.
The city is also suing the federal agency initially responsible for the project, the U.S. Maritime Administration.
The project used a design patented by PND known as "Open Cell Sheet Pile." Hammers operated from cranes drove sheets of steel into the ocean floor to form U-shaped cells that could be filled with dirt and gravel to create new land.
Some sheets during installation twisted or bent. A federal audit determined cost estimates for the project would increase from $211 million in 2003 to $1 billion in 2011.
The municipality in the two lawsuits is initially seeking $340 million, said Robert Owens, an assistant municipal attorney.
The municipality in its amended lawsuit said GeoEngineers, PND and Veco Alaska Inc., which CH2M Hill acquired in 2007, teamed to complete the expansion design.
A GeoEngineers representative declined comment on the lawsuit last week.
CH2M Hill in a court filing last week denied that it was liable and asked for claims to be dismissed. The company said that if the court did find it liable, fault should be apportioned to firms not listed in the lawsuit: Terracon Consultants Inc., an engineering services corporation hired to independently review the project, and two construction contractors, Quality Asphalt Pavement and MKB Constructors.
The case is scheduled for trial in October 2015.