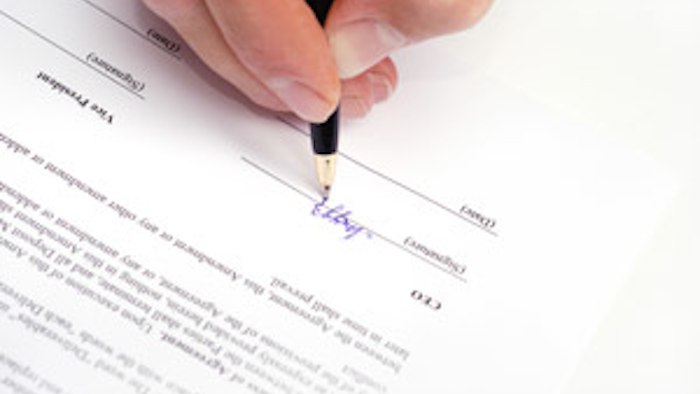 A.C. Simmonds and Sons Inc. (ACS) and Environmental Waste International Inc. (EWS) announced today that a non-binding letter of intent has been entered into regarding the proposed acquisition of all of the issued and outstanding common shares of EWS by ACS in exchange for common stock of ACS. Under the terms of the Proposed Acquisition, ACS will issue to the shareholders of EWS one ACSX Share for every 40 EWS Shares. The Proposed Acquisition is premised on a deemed acquisition price of $0.25 per EWS Share and a deemed issued price of $10 per ACSX Share, which represents an aggregate purchase price for the EWS Shares currently outstanding of $31,379,532.
"One strategic focus of A. C. Simmonds and Sons is disruptive technology that is environmentally sustainable," said John G. Simmonds, Chairman & CEO of ACS. "We welcome the EWS solution to the Company as it enables us to reuse organic materials such as tires that are otherwise a major source of waste."
"With the backing of A. C. Simmonds and Sons including its financial and management resources, EWS believes it will soon realize the commercial potential of this unique technology" said Daniel Kaute. Ph.D., President & CEO of EWS.
The board of directors of EWS has established a Special Committee of independent directors to oversee and negotiate the transaction on behalf of EWS. The Special Committee is comprised of Emanuel Gerard, Sam Geist, and Thomas Russell. Emanuel Gerard has been appointed as the Chair of the Special Committee.
It is anticipated that the Proposed Acquisition will proceed by way of a court-approved plan of arrangement of EWS under the Business Corporations Act. The letter of intent provides for an exclusivity period of 30 days following its execution during which EWS and ACS will use their mutual best efforts to negotiate a definitive agreement and complete their due diligence investigations. In the event the Definitive Agreement is executed, the closing of the Proposed Acquisition will be subject to a number of conditions, including, but not limited to, receipt of a favourable fairness opinion along with customary regulatory, third party, court, and shareholder approvals including the approval of the TSX Venture Exchange.
Under the letter of intent, EWS has agreed not to solicit any other acquisition proposals during the Exclusivity Period, provided, however, that the board of directors of EWS is permitted to consider unsolicited superior proposals in compliance with its fiduciary duties. ACS has a right to match any such superior proposal. Additionally, the letter of intent provides for a standstill pursuant to which ACS is not entitled to make any further acquisition proposal until the earlier of (i) the date that is 15 months from the date the LOI was executed, (ii) the date, if any, that EWS has entered into or publicly disclosed its intent to enter into the Definitive Agreement with ACS in respect of the Proposed Acquisition or with any third party with respect to an acquisition proposal, or (iii) the date, if any, that is the fifteenth business day following the date any third party has formally commenced an unsolicited take-over bid for EWS's securities which has not been publicly rejected by EWS's Board of Directors.
Under the terms of the letter of intent, EWS may issue up to 20 million common shares pursuant to one or more equity private placements without any change to the 40-for 1 exchange ratio. EWS anticipates issuing up to 20 million common shares at a price of $0.10 per share.
EWS specializes in eco-friendly systems for the breakdown of organic materials such as tires. EWS has spent over 15 years engineering systems that integrate the EWS patented Reverse Polymerization™ process and proprietary microwave delivery system. EWS's unique microwave technology safely processes and recycles waste tires into valuable commodities including carbon, black oil, and steel. Each unit is designed to be energy efficient and economically self-sustaining.
ACS, with lineage through its management team to 96 years of business experience, is a Canadian based company with interests across North America and a growing international presence. The company is focused on acquiring profitable businesses for expansion and development in seven growth sectors: international food, oil and gas, waste management, mold remediation, renewable energy, disruptive technology, leisure, and entertainment. John G. Simmonds, Chairman and CEO, co-founded the largest Canadian golf course operation and has successfully established and grown companies and built effective teams. Mr. Simmonds has served as chairman and a member of the board of directors of several public companies.
For more information, please visit www.acsimmondsandsons.com.