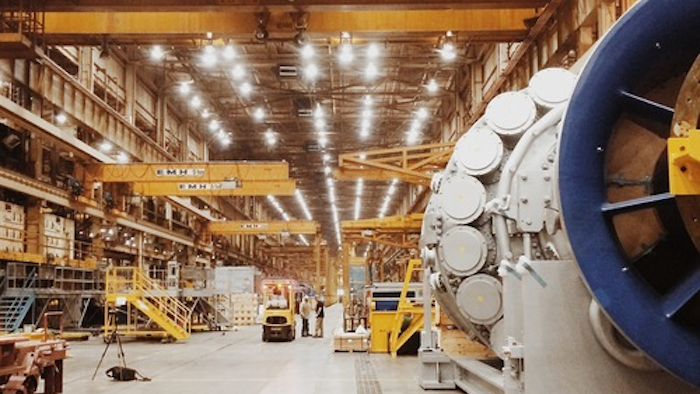 GE reported a double-digit increase in industrial profits for the first half of 2014 today. The growth has been fueled by the company's long-term strategy to build up its industrial units, shrink its financial services business, and grow investment in new technologies and research.
The company's R&D spending, currently at 5 percent of revenues, in advanced technologies like Tier 4 locomotives, gas turbines, new materials and next-generation jet engines added to GE's record $246 billion backlog, up $23 billion compared to the same period a year ago. This week, for example, GE and CFM International, a joint venture between France's Snecma (Safran) and GE Aviation, announced more than $36 billion in wins for jet engines, services and other technology at the Farnborough airshow.
GE's successful bid for the power and grid units of the French industrial company Alstom will help accelerate the company's strategy to achieve 75 percent of earnings from its industrial businesses by 2016. The offer was accepted by the Alstom board of directors and approved by the French government in June. The deal is expected to close in 2015.
GE's industrial revenues grew 7 percent in the last quarter. The company has benefited from an improving global economy and a rising demand for industrial goods in emerging markets. "GE had a good performance in the quarter and in the first half of 2014, with double-digit industrial segment profit growth, 30 basis points of margin expansion, and nearly $6 billion returned to shareholders," said Jeff Immelt, GE Chairman and CEO.  "The environment continues to be generally positive." 
GE's financial arm, GE Capital, kept shrinking the size of its non-core portfolio during the second quarter.
GE posted detailed results online.