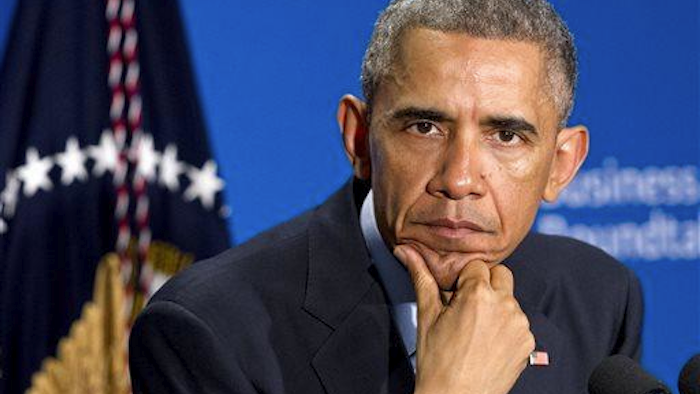 On a cold overcast morning in January, President Barack Obama briefly delayed his departure for an Iowa day-trip to huddle in the Oval Office with AFL-CIO president Richard Trumka and United Auto Workers President Dennis Williams. The topic was Obama's upcoming State of the Union address.
A week earlier, Obama had invited Mary Kay Henry, president of the Service Employees International Union, and Leo Gerard of the United Steelworkers, to fly with him to Michigan aboard Air Force One.
It was VIP treatment for leaders of a labor movement whose relationship with Obama had never been close and at times had been downright chilly. Obama was stepping up his call for new trade deals with Asia and Europe and his fight with some labor unions promised to be as bitter as President Bill Clinton's during debate over the North American Free Trade Agreement. But Obama was also seeking to court unions with an economic pitch straight out of the labor policy book.
By the time he addressed a joint session of Congress days later, he had tucked in a shout-out to unions the likes of which labor had seldom heard in a State of the Union speech:
"We still need laws that strengthen, rather than weaken, unions and give American workers a voice," Obama said.
For labor it was a welcome sentiment from a president whom many union leaders faulted for not pushing for greater bargaining rights early in his presidency when he had Democratic majorities in the House and the Senate.
The fight over trade, however, is already steeling labor-allied Democrats in the House against giving Obama the kind of fast-track authority he wants to push trade deals through Congress. If Obama were to succeed, trade deals won with Republican support could depress union votes, with potential consequences for former Secretary of State Hillary Rodham Clinton if she decides to run for president.
Obama wants to keep the union anger to a quiet simmer by otherwise advancing an agenda that dovetails with labor's. The result is a complicated alliance that has never had a strong bond.
"He has addressed our raising-wages agenda. He has been talking about middle-class economics, about jobs. He talked in his State of the Union about making unions stronger, not weaker," said Bill Samuel, the director of government affairs at the AFL-CIO. "If you look at the policies from minimum wage, paid sick days, overtime, paid family and medical leave — these all appeal to the working-class families we represent."
"Clearly the one area where we continue to have a very deep disagreement is over trade. And President Trumka has spoken directly to the president about it, more than once," Samuel added. "We don't always agree, and when we don't, Rich is not bashful about telling the president we disagree."
Obama has pleased labor with his appointments to the National Labor Relations Board and other regulatory agencies. He has pushed for an increase in the minimum wage, and he has directed the Labor Department to adopt new rules that make more workers eligible for time-and-a-half overtime.
But labor's list of grievances with the Obama administration begin with his failure to press for passage of the Employee Free Choice Act in 2009 when Democrats controlled the House and he had a filibuster-proof Democratic majority in the Senate. The legislation would have made it easier for workers to join unions, a top priority for labor whose overall membership numbers have steadily slipped.
They've also objected to a provision in Obama's health care law that will tax the kind of low-deductible, high-benefits health insurance policies that many unions have negotiated in lieu of higher wages. And they weren't happy that Obama's second Democratic National Convention was held in a right-to-work state like North Carolina.
"There's never really been a really deep relationship there," said Steve Rosenthal, a former AFL-CIO political director and former labor official in the Clinton administration who works closely with the labor movement. "I think now it's a peaceful coexistence. Now there is a sense, he's kind of the last line of defense against the Republican assault."
While the objections from labor to Obama's trade push have been loud and constant, the labor movement is not monolithic.
"Public employee unions tend to have more skin in the minimum wage game than in the trade game," said William Galston, a former domestic policy adviser to President Bill Clinton.
Still, passage of NAFTA over labor opposition in late 1993 has been blamed for a decrease in voter participation by union households in the 1994. Unions like the AFL-CIO punished Democrats by cutting back on their political funding.
Moreover, states with the largest union memberships include presidential battleground states like Pennsylvania, Michigan and Ohio.
"A big trade fight now can't be helpful in terms of union participation in the next election," Rosenthal said. "There will be some unions that will be extremely worried about jobs and trade, and Secretary Clinton is going to have to deal with that."