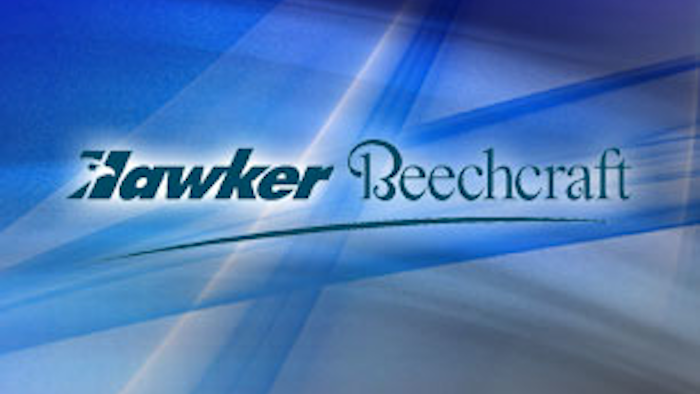 WICHITA, Kansas (AP) — Hawker Beechcraft wants to pay eight senior executives more than $5.3 million in bonuses as it tries to emerge from bankruptcy, but the request was challenged Monday by the Justice Department's bankruptcy watchdog agency and mocked by the company's machinist union.
The Kansas-based airplane maker hasn't shown that its proposed bonus plan is not a "disguised retention plan," U.S. Trustee Tracy Hope Davis argued in documents filed in bankruptcy court in New York. Bonus plans are allowed but must do more than simply reward managers for staying during a bankruptcy reorganization.
Hawker Beechcraft calls the bonuses an incentive award. The company said the plan was developed to recognize the critical role certain employees have in the bankruptcy process, arguing that their continued employment is essential to the company's ongoing business operations and restructuring.
"The plans are consistent with our commitment to emerging from the restructuring process in the strongest operational and financial position possible," the company said in a statement Monday.
Davis argued there must be other factors such as "challenging standards" or "high hurdles" for debtors to overcome before they can be paid bonuses, and that Hawker Beechcraft did not meet those standards.
The U.S. Trustee Program is a division of the Justice Department whose mission is to oversee bankruptcy cases and maintain their integrity. A bankruptcy court hearing is scheduled for Thursday.
The International Association of Machinists and Aerospace Workers said it plans to formally file an objection to the executive bonuses before the hearing.
"You got to be kidding me. Bonuses? And you know, really when I look at the company that owns Hawker Beechcraft, Goldman Sachs — and what the country went through with them and bonuses — I guess I shouldn't be surprised," said Matt McKinnon, legislative and political director for the machinists union.
Hawker Beechcraft Corp., based in Wichita, is owned by Onex Partners and GS Capital Partners, a Goldman Sachs private equity fund. It has struggled with the sluggish business jet market more than other plane makers because it was purchased in a highly leveraged deal at the peak of the general aviation market, just before the market tanked.
The company filed for bankruptcy protection in May. The court has approved exclusive talks with a Chinese firm that has offered nearly $1.8 billion to purchase the company's business jet and general aviation operations.
The amount of the proposed bonuses for each manager are based on a formula that takes into account each executive's salary, the timing of the bankruptcy reorganization and whether Hawker Beechcraft emerges as a stand-alone entity or is sold to a third party.
For example, management bonuses would be reduced by 25 percent of each participant's base salary for each $100 million in purchase price below the $1.79 billion deal offered by Beijing-based Superior Aviation Beijing Co.
The highest potential bonus would be $1.26 million paid to Hawker Beechcraft Chairman Bill Boisture. Others receiving lesser bonuses would be various vice presidents in charge of operations, human resources, engineering, global customer support and customers, as well as the general counsel and chief financial officer.