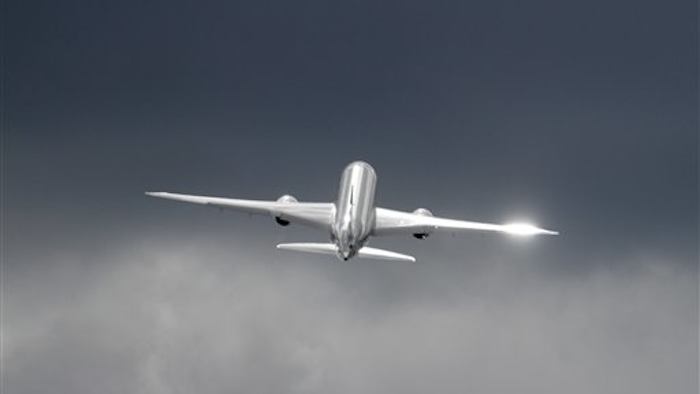 A Qatar Airways Boeing 787 Dreamliner flies during a display on the third day of the Farnborough International Airshow, in Farnborough, England, Wednesday, July 11, 2012. (AP Photo/Lefteris Pitarakis)
FARNBOROUGH, England (AP) — Airbus unveiled a further set of orders Thursday in what has been a subdued performance at the Farnborough Airshow, ahead of an expected big deal between Boeing and United Airlines.
The European aircraft manufacturer, a subsidiary of EADS, said it booked a potential $6.35 billion worth of orders. The four deals, if completed, take Airbus' total by the fourth day of the U.K. airshow to $16.9 billion for a total of 115 aircraft.
Airbus said it won commitments to buy 61 aircraft worth $5.8 billion and firm purchase orders for 54 aircraft worth around $11.1 billion.
Airbus' total was way down on last year's record total at the Paris Airshow of $72 billion — the French capital and alternate aviation industry showcase venue with Farnborough.
The decline in orders is no surprise given the gloomy global economic backdrop and the scale of last year's success, when the European aircraftmanufacturer trumped Boeing with a series of deals for its revised short-haul aircraft, the A320neo. Boeing's orders last year totaled a little more than $22 billion.
"The quality of orders at Farnborough has been high at the show, with significant endorsement from leading customers of our strategy to continuously innovate and improve our products," said Fabrice Bregier, Airbus's Chief Executive Officer.
On Day 4, Airbus revealed that Russian carrier UTair has ordered 20 short-haul A321s in a deal is valued at $2 billion at list prices. The deal, which is firm, represents, the largest order for the type received from a carrier in the region and the first time that UTair has ordered Airbus aircraft.
Airbus also announced that Synergy Aerospace, a Latin American company, has firmed up a previous $1.9 billion order for nine long-haul A330 planes. In addition, it said Middle East Airlines has signed a memorandum of understanding to buy 10 A320neo aircraft, worth $1 billion at list prices, and that Irish leasing company Avolon has committed to buy 15 A320neo aircraft, worth $1.45 billion at list prices.
Customers rarely pay the full list price when ordering big. Though most commitments end up becoming firm, it's not unknown for them to founder at the last hurdle or two.
Boeing, which was tipped to make a comeback at Farnborough this year after last year's order book fell short of expectations, is later poised to reveal details of a deal with United Airlines. It already has announced more firm and committed orders than Airbus at this year's show.
This year's airshow has taken place at a time when the global economy is showing signs of slowing down and governments around the world are cutting back costs on military spending as they grapple with high debt levels. The combination of a faltering economy and lower government spending is a difficult combination for the aviation industry as air travel tracks global economic growth.