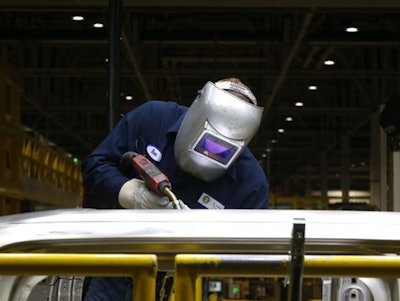 Today's manufacturers face a much greater challenges than their forefathers did. No one in 1890 or even 1990 was searching the Internet for price and shipping comparisons between companies to get the best deal on the latest phones or sneakers. Now we can scour the Internet for these facts within 60 seconds. It's just a different world.
There is a seismic shift in the way consumers use technology that can save time and money, while ensuring a competitive advantage in the marketplace. But for manufacturing companies who aren't embracing technology in this way, the shift can be a seismic headache.
There is no reason to work like its 1990. Enterprise Content Management (ECM) systems for manufacturing and wholesale distribution companies can help to manage the full spectrum of the supply chain. Here's why manufacturing companies need to empower their teams with technology that moves them ahead of the pack.
We're Going Mobile
Mobile technology doesn't mean that we are only using our smart phones at work. It also means that all of our business data — whether it initiates in the call center, sales and marketing or distribution departments — is mobile. Critical business data needs to be accessible to those that need it wherever they are across the globe, including off-hour usage. Customers are demanding 24/7 fulfillment.
With ECM, customer work or purchase orders, contracts and supporting documentation, invoices and receipts, quality control and engineering specs can all be scanned and centralized for improved accuracy, faster quote-to-order cycle times and more rapid processing of approvals for order acknowledgement and fulfillment. ECM can help business leaders empower everyone from design to warehouse to customer service with real-time information so that there are fewer delays and a reduction in lead time. All order documentation is mobile and readily accessible from any device – increasing accuracy and productivity to the benefit of your customers.
Simplify, Simplify, Simplify
Complex supply chains require excellent communication and organization. Without technology in place to integrate communication between accounting, HR, sales and marketing, shipping and customer service, precious time is wasted, and errors are made. From order to final shipping, ECM can help increase security and control of all paperwork to ensure critical documentation isn't lost and that each link in the chain from customer support to sales and marketing has the most up-to-date information.
Unlike paper processes, data is housed in a centralized database that is accessible 24/7 and documents can be routed automatically for more efficient workflow. Everything from supplier scheduling and distribution requirements planning is simplified. And with more data going in, more data is coming out, including advanced reporting to help with continual process improvement between departments.
Time Is Money
In a mobile world, your ability to fulfill an order from start to finish directly impacts your bottom line in ways even Thomas Edison couldn't have dreamed up. Not only does reducing paper help provide cost savings for mailing, paper file storage and copying expenses, but it can also impact the way your accounting department handles invoicing. When purchase orders and invoice processes are automated, businesses see a direct reduction in time and expense.
With ECM, you can scan a purchase order directly, acquire and attach order acknowledgment and automatically notify appropriate personnel — all within minutes. Data can be automatically routed to review against quotes or previously agreed upon contracts, and dispatched to production for fulfillment. All shipping documents can then be attached to the in-process work order for instant visibility throughout your entire organization.
Sound good? It gets better. Since many suppliers are utilizing electronic systems, manufacturers can also avoid late payment penalties and even reap the benefits of early payment discounts. Your accounts payable department can receive all invoices automatically and instantly send notifications to all required parties, accessing all supporting documentation, gather all necessary approvals and move to a completed and paid invoice.
Advancements in cloud technology have made it easy for even the smallest operations to benefit from ECM at a low cost and minimum upfront investment. Your customers want what you have. Make it happen efficiently and reduce costs with ECM to reduce cycle time, increase customer fulfillment and satisfaction, and improve collaboration and communication.
About The Author: Jeff Frankel is Executive Vice President and Principal at docSTAR, a B2B software firm specializing in cloud document management solutions and business process automation.