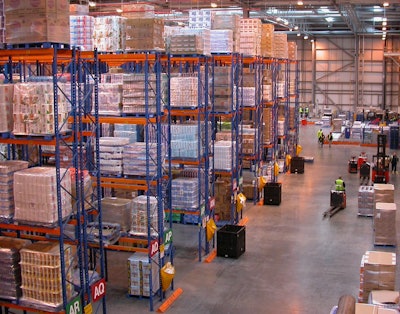 Trucks on the open road provide the backbone of the supply chain industry. For manufacturers and e-commerce companies, making sure those trucks reach their destinations quickly, efficiently, and safely is key. The supply chain is becoming more complex with connected technologies, and customers are becoming more demanding at the same time. So what do supply chain experts see as the up-and-coming ways for keeping business moving?
At Rockwell Automation's Automation Fair in Philadelphia on Wednesday, Nov. 14, a panel of industry experts talked about what trends are dominating the supply chain industry today, and how manufacturers and distributors can adapt to succeed.
According to the Next-Gen Supply Chain report from Rockwell and Deloitte, customer demand is the top challenge in the supply chain today, followed by difficulty in hiring skilled workers. The survey received 1,100 responses from leaders in manufacturing and the supply chain industry. Panelists from Rockwell Automation, UPS, Dollar Tree / Family Dollar, and others brought their expertise.
Based on the panelists' reports and responses, here are the top five supply chain trends of 2018:
"Always On"
Customers are "always on," Scott Sopher, principal at Deloitte, pointed out. Next-day delivery has become more frequent and expected. With increased comfort with technology comes increased demand from customers for an efficient and seamless delivery, especially in the last mile, Sopher said. Customers also expect more visibility, with up-to-the-minute information about where their product came from and where it is located during every step of the journey. "Always on" also applies to global operations, operated over many different time zones. For industry, this can mean closer integration between manufacturing and other parts of the supply chain, such as fulfillment.
Jon Gardner, VP Solutions & Engineering, North America at Kuehne + Nagel said that customer expectations were his top concern when it comes to work-related problems that keep him up at night.
Security
The data breaches at Sony in 2011, Sears in 2018, and others earlier this year cast a shadow over industry's perception of always-connected systems, but that hasn't slowed the pace of adoption of industrial smart sensors and the other connected devices referred to as the Industrial Internet of Things. Customers hope for assurance that their suppliers have quality cybersecurity support both in-house and in their relationships with business partners.
Robotics and Automation
This one may seem like a no-brainer, since factory and loading robots have been in place for decades, but respondents to Deloitte's survey still list it as an area in which innovation is moving fast. In the survey, 65 percent of respondents list it as a top supply chain innovation.
One of the changes in this area might come less from the technology and more from its location. Kieran Ryan, Director of Logistics EAM and Reliability Maintenance, Dollar Tree/Family Dollar, says that more machines are being placed at loading docks to facilitate lifting packages. This brings us to our next topic, the trouble of working in a labor market with more supply chain and distribution jobs than people to fill them.
Labor
"We can't find enough people to work, and competent people," said Ryan. His teams are working on integrating the two "Dollar" brands, shifting to more automation and one quarter of the staff. Jobs that are repetitive or dangerous will be first in line for shifting to automation, which will also enable workers to work in smaller areas with temperature control. He mentioned fostering workers' experiences within the company, but still struggles with turnover. Meanwhile Amazon's distribution centers are making headlines for offering unsustainably low pay and unsafe working conditions.
"We have to decrease our dependency on labor as the only pressure valve on demand from our customers," said Tristian Kanwar, VP Operations, Rockwell Automation.
This ties in to the fact that customers are more demanding as well. Employers want customers to be able to place orders late in the day, while employees may choose not to stay long-term on a demanding night shift.
Joel Stenson, VP Corporate Plant Engineering, UPS, says that diversity and inclusion in hiring are essential to find the best and brightest workers from around the world. He tries to build relationships at international conferences and throughout the industry with a mind to diversity. Both Stenson and Kanwar mentioned working with community colleges and high schools, as well as 'educating educators', letting teachers and parents know that viable careers exist in the supply chain industry.
Integration Across Supply Chain
Kanwar said that integrating technology into the broader supply chain is particularly challenging. The velocity of work in distribution centers affects everything down the line. Companies must also be flexible when it comes to the effects of tariffs and trade regulations by clearly communicating down the line from one partner to another.
Stenson said that his company faces the challenge of increasing automation without slowing down the pace of business as usual. Moving operations offsite during modernization can be prohibitively costly. In order to handle this, UPS has doubled the size of its facilities during modernization where physically possible, creating a new automated operation, moving the entire workforce over, then modernizing the other half of the newly expanded building. Keeping productivity up while reinventing the workplace underneath you is a challenge across the board when it comes to bringing the supply chain and distribution industries into the future.