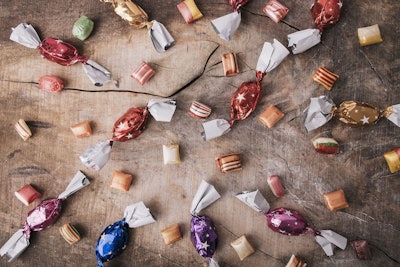 In 2016, there were 40,411 people employed in manufacturing chocolate and cocoa products, according to the United States Census Bureau. Most of them have already been mobilized this year to produce the candy given out at trick-or-treating or gobbled up at Halloween parties. For adults, one of the spookiest parts of the holiday might be finding how much money comes out of pockets to spend on candy, costumes, and decorations. Here's Halloween by the numbers:
According to LendEDU, the average person in the United States will spend $185.50 on Halloween candy, costumes, and decorations.
That breaks down into
That price is up from $169.81 on average in 2017. (LendEDU's data comes from a survey of 1,000 individuals selected from an online resource, which means it skews toward those who own a computer and choose to sign up.)
There were 41.1 million potential trick-or-treaters in 2017, a number calculated based on children ages 5 to 14, according to the Census Bureau.
There were 120 million stops for trick-or-treaters to visit, based on the number of occupied housing units in 2017.
3,430 confectionary and nut stores sold candy and other confectionaries in 2016.
In total, Americans are expected to spend $9 billion on Halloween-related items, according to the National Retail Federation.
For an alternative look at the numbers, here are the results of a different poll; the National Retail Federation and Statista found that the average person they surveyed will spend $87 on tricks and treats.
You will find more infographics at
Statista