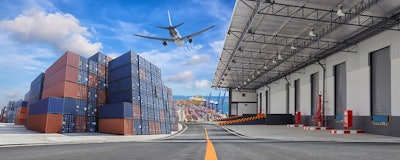 The supply chain is of paramount importance to any company seeking success and satisfied customers, but it can be difficult to balance customer expectations with cost. The challenge of maintaining standards when you're leveraging multiple external partners can be daunting. Modern businesses must remain flexible and agile to capitalize on opportunities. Only Supply Chain Orchestration (SCO) can really deliver the visibility and control that's needed.
The idea that logistics can be boiled down to speed versus cost is simplistic. Customers have a sophisticated set of requirements and synchronizing the actions of a multitude of suppliers, 3PLs and other third-parties requires strategic skill. But operational excellence and customer intimacy are not mutually exclusive. With the right data and levers of control, you can orchestrate a supply chain that delivers for everyone concerned.
What Can SCO do for You?
Customer expectations have really shifted with the rise of the internet and online retailers like Amazon. People expect it to be easy to order or return goods, they want fine-grained delivery slot options, and speed remains essential. Next day delivery is fast-becoming a standard, alongside in-store pick up. Same day delivery is next. Amazon is creating expectations that B2B buyers will surely demand. A recent survey revealed that 72 percent of consumers said they would shop more if their favorite retailer offered same-day delivery.
Behind the scenes, businesses can make huge cost savings by reducing the inventory they hold and forging closer collaborations with suppliers. A vendor-managed inventory can be enormously beneficial, but it requires real-time oversight and control. Direct shipping from suppliers to your customers and even returns from customer to supplier, can enable companies to scale up and offer a much broader product selection without a prohibitively large investment.
SCO can empower you to leverage external partners as though they were internal units. Let's take a closer look at some concrete examples of how SCO can help your business stand out in a crowded marketplace.
3 Ways SCO Can Improve Customer Deliveries
A successful retailer wants the competitive advantage that same-day delivery can offer, but their current partners aren't up to the task. With SCO, it's easy to add distribution partners into your network and manage them, extending your geographical reach and winning more orders.
Consider an apparel manufacturer that's looking to shift from retail chain service into support for consumer e-commerce. They already successfully ship their goods into retail chains, but with different product categories in different warehouses, they need a way to merge consumer orders in transit. They also want to add delivery options, improve on-time delivery and secure visibility into the customer delivery process. SCO can enable them to integrate and gain the oversight they need.
A wholesale distributor supplies industrial components through a set of dealers. They've innovated by offering e-commerce services that their dealers can employ, to give end customers a better experience. This increases their order flow and allows the dealers to expand into e-commerce without a big investment, but it's a complex process to manage. Sometimes they ship to dealers, sometimes direct to end customers, so they need SCO for visibility and control throughout, enabling them to ship on time at the lowest cost possible.
SCO Enables Flexibility and Better Inventory Management
It's not always about visibility and control. A high-tech communications manufacturer has a reverse logistics spare parts business that it outsources to a 3PL. Fresh markets are opening up, with new customer requirements, and the manufacturer doesn't want to be locked into a single logistic service provider — they want flexibility. SCO can help them to pick the best service partner for each and every customer to balance the lowest cost for each repair, with the best spare part option for timely delivery to keep their customer's data center up and running.
A company makes warehouse automation equipment. They sell their parts through a network of dealers, but they also have suppliers that ship items directly. When an order comes in, they either ship it to the dealer themselves, or they engage a supplier, but they lack good inventory visibility. Sometimes dealers may hold parts that other dealers could use. By using SCO to integrate oversight of dealer and supplier inventories with their own, they can increase orders and boost efficiency.
These are just a few examples of how SCO can improve visibility, control and flexibility for any business to deliver tangible competitive advantage.
Brian Hodgson is Executive Vice President of Business Development for MP Objects (MPO).