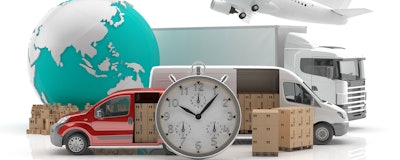 In an increasingly competitive market, with innovation, speed and cost all contributing to success, more companies are working with third-party contract manufacturers to supply products more quickly to market, and at lower cost. The case for such partnerships is clear — a high degree of control can be maintained, from agreements about sourcing the raw materials to packaging according to brand specifications, while parameters such as pricing, lead time and quantities are set on standard terms.
Verticals such as food and beverage, pharmaceuticals, and consumer packaged goods are doing business with third party contract manufacturers on an increasingly frequent basis as it allows for companies to pilot new products in the market more easily and at a lower capex cost. As these verticals are almost entirely dependent on market persuasion and consumer spending, contract manufacturers allow for time and volume flexibility in placing orders.
However, although contracts are signed with an agreed standard volume and price, optimal volumes may differ from the standard, causing the price to change. Costs could also differ due to various factors such as shipping needs (for example, a rushed order). A materials shortage and changing commodity prices could also have an impact. In addition, as companies grow, businesses become more complex, with the potential for many different underlying ERP systems. Couple that with the different data systems used by contract manufacturers, and data discrepancies can inevitably result. Finally, the potential for human error is always present and can negatively impact budgeting and cash flow if not promptly identified and managed.
This problem, known as Purchase Price Variance (PPV), is likely familiar to many procurement and supply chain professionals and focuses on the difference between the agreed price in a contract and the price actually paid. It is prevalent throughout manufacturing, but is particularly apparent in contract manufacturing. Many companies are looking at PPV by addressing the complexity of the buy, and adding transparency, visibility, and ultimately, predictability, to the process. Take an example: Perhaps order volumes of a product are regularly falling below a specific threshold, and shipping every two to three days. A solution could be to aggregate these volumes into larger shipments. Purchasing in larger volumes could result in a drop in price, and aggregating shipments so they happen less frequently results in saving on shipping.
Scale can increase the complexity of this task, as can the size of the contract manufacturing network. Companies dealing with large numbers of SKUs of their products, or with very complex products will find PPV an even more serious business issue. Some are turning to third party experts to gain a stronger understanding of PPV and take corrective action. When dealing with PPV, companies need to sift through a huge amount of data, and not all have the resources to do so, particularly when the data is not robust and requires a lot of manual effort and intervention. Companies can put their own analysts to work on it, but it takes time to tackle this data, understand it, and create something of value. So when applying an external solution, companies can meld third party analyst insights — examining, evaluating and making sense of the data, alongside machine capabilities — software tools and algorithms that are tailored to the companies needs to provide the solution on an ongoing basis.
While companies who use contract manufacturers are typically the drivers for employing these solutions, contract manufacturers themselves can also benefit. By getting ahead of the problem, working closely with their customers and third party providers, as well as integrating into their customers' ERP systems, contract manufacturers can mitigate variance as and when it arises, supporting and strengthening the customer relationship.
Elizabeth Arden, the global brand offering beauty products, skincare and perfumes, worked with us to track PPV, identify the root causes and manage the associated risks. To start with, the data received from Elizabeth Arden's manufacturer was standardized, consolidated and cleansed. Then a variance calculation tool was used to compare purchase order prices to internal price standards. This was presented to the Elizabeth Arden team using an interactive dashboard, used to identify variance and generate reports at manufacturing unit and business segment level.
Since this engagement began, the Elizabeth Arden procurement team has been able to:
Proactively Monitor and Control Purchase Orders: With detailed information on order compliance, the team can act on variances that would otherwise grow into significant dollars over the course of the year.
Improve Predictive Cost: The first compliance report prior to leveraging this solution, showed 18 percent accuracy, meaning 82 percent of the purchases resulted in some variance to the master data/parameters expected versus what was transacted. Since leveraging this solution, accuracy has increased three fold, greatly reducing the volume of rework and reconciliation.
Expect Cleaner, More Accurate Data Over Time: Elizabeth Arden and its turnkey manufacturers can start out next year with new standards and more accurate purchasing master data that they can use to better predict and affect cost of goods sold.
We are now working with Elizabeth Arden and its network of contract manufacturers on improved inventory planning, focusing on reduced inventory costs and improving cash flow.
Given the complexity of contract, coupled with legacy systems and process issues, it can be difficult for companies to deal with PPV effectively. However, by gaining visibility into the supply chain, there are many cost and cash flow benefits that can be accrued. If the task seems daunting due to the complexity or scale of the business, there are third party providers who can support and help companies get PPV back under control.
Omer Abdullah is Managing Director at The Smart Cube.