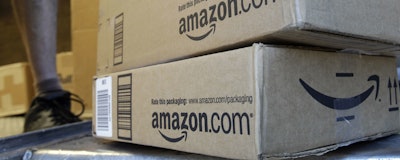 Being the leading online retailer in most parts of the world has its upsides, as I'm sure everyone lucky enough to have bought Amazon shares ten years ago would confirm. However, getting to and staying in that position also comes with a lot of challenges – the largest probably being the logistical nightmare of shipping millions of orders to people around the globe on a daily basis.

The chart below illustrates just how enormous the effort required to get all those packages to customers in time really has become as Amazon grew larger and larger over the past decade. In 2006, the company spent a total of $884 million on outbound shipping and the logistics involved while taking in $567 million from customers in the form of shipping charges and Prime membership fees. That left the company with net-shipping costs of $317 million or 3 percent of its revenues. In 2016 so far, Amazon's net shipping costs amounted to $4.56 billion, roughly 5 percent of its revenue, and that doesn't even include the holiday quarter, traditionally the most challenging in terms of logistics.

Containing the negative effect of shipping costs on the company's bottom line is one of the key challenges that Amazon will have to master going forward, which is why it is no surprise that the company invests heavily in logistics infrastructure and research. When asked about his company's lower-than-expected profit during Amazon's earnings call last week, CFO Brian Olsavsky said that the company had opened 18 new fulfillment centers during the quarter, triple the normal rate.
This chart shows how Amazon's shipment costs have risen over the past decade.