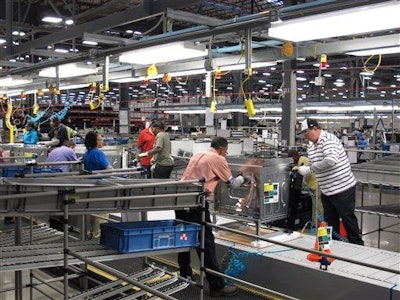 U.S. workers saw their pay and benefits rise at the fastest rate since 2008 last year, according to the U.S. Department of Labor.

But the increase still lagged the type of growth that usually accompanies a fully healthy economy, according to reports.

The department said its measure of worker compensation -- called the employment cost index -- increased 2.2 percent in 2014. That's narrowly ahead of the 2.0 percent increase in 2013 and the best increase in six years, but it remains behind the 3.5 percent increase that would usually be seen in a growing economy.

Still, the number could be one more indicator that the American labor market continues to improve. The country saw its best yearfor hiring since 1999 last year, and the latest unemployment assistance numbers recorded their lowest weekly total in 15 years last week.

Economists also say the employment cost index is a better indicator of rising pay levels than average wage growth, noting the index tracks changes within individual industries and other factors. The 2.2 percent increase was ahead of the 1.7 percent increase in wages last year, as reported by the Bureau of Labor Statistics earlier this month.

Both numbers also outpaced the 1.3 percent rate of inflation. Increasing wages, however, could be a factor in rising inflation, and there's speculation that the Federal Reserve will look to increase interest rates later this year. The Fed indicated this week that although it remains optimistic about the economy, falling oil prices have helped keep inflation low and that it will be "patient" regarding possibly raising interest rates from their current record lows.

Meanwhile, some observers remain concerned about the types of jobs being created in the current economy, noting pay hasn't moved much despite the unemployment rate falling to 5.6 percent and approaching what analysts consider "full employment."