As of this week, every new vehicle produced by Tesla Motors will come equipped with the hardware needed to make the car fully autonomous.

Regulators would need to authorize the system before it could be activated, but the announcement makes the electric vehicle manufacturer the first the U.S. to take the leap into self-driving capabilities.

The system, the company announced Tuesday, includes eight cameras that provide up to 250 meters of visibility in all directions, along with ultrasonic sensors and forward-facing radar "capable of seeing through heavy rain, fog, dust and even the car ahead."

A new, more powerful onboard computer will operate the system's software.
Tesla CEO Elon Musk said that the new system will be able to navigate driving on city streets while an upgraded "Autopilot" system handles highway driving.

"It will basically be a supercomputer in a car," Musk said, according to the Associated Press.

Autopilot, which debuted last year, uses sensors and cameras to keep Tesla vehicles within their lanes and at safe distances from nearby cars while operating on highways.

The semi-autonomous system came under fire from some critics — particularly in the wake of a fatal Florida crash earlier this year — but Tesla noted that drivers should pay attention to the road at all times should they need to intervene.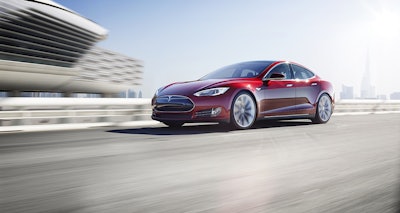 Musk this week criticized the media for its focus on accidents involving self-driving systems. He noted that autonomous driving effectively eliminates human error and will result in much safer roads.

"You effectively dissuade people from using autonomous vehicles, and you're killing people," Musk told the Los Angeles Times.

Prospective buyers can currently order a Model S sedan or Model X SUV that will come equipped with self-driving features. The forthcoming, cheaper Model 3 sedan will also include them.

Current Tesla owners won't be able to upgrade to self-driving systems, and the new cars will lack some Autopilot features as the company calibrates its system with "millions of miles of real-world driving."