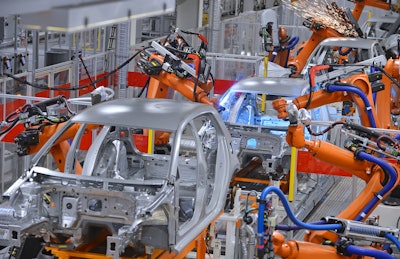 Coming off of a historically tumultuous year, we recently sat down with Bill Berutti, CEO of Plex Systems, to get his thoughts on what could lie ahead for U.S. manufacturing.
Jeff Reinke, editorial director: We're seeing a lot of varying reports on how U.S. manufacturing is doing. Some have pivoted operations to respond to the pandemic and are doing well. Some produce essential products and have continued with "business as usual" performance. Others are facing crippling supply chain issues and suffering from lower consumer spending. Looking at the industrial sector from a broad perspective, what are your thoughts on its overall health?
Bill Berutti, Plex Systems:  At Plex, we are encouraged by the positive signs we're seeing in the U.S. manufacturing industry and around the world. In September, U.S. manufacturers reached a significant milestone as they surpassed pre-COVID-19 rates of activity for the first time since the pandemic took hold in early March. And, they're demonstrating their ability to maintain these levels. As of the end of November, U.S. manufacturing was maintaining a 103 percent rate of production when compared to pre-COVID rates.
We're also seeing growth on a global scale has been sustained. For example, in this same time period, Mexico experienced production activity at 110 percent compared to pre-COVID levels of activity, and we saw week-over-week growth across Europe despite a second wave of the coronavirus. China is also expected to experience production growth in the months ahead, according to year-over-year activity trends.
Looking ahead,, we are optimistic that this demonstrated resiliency will position manufacturers to continue matching their rates of production to market demand.
JR: Which sectors do you see continuing to do well? Which sectors do you see struggling the most? Why is this the case for each?
BB: According to our smart manufacturing data, which tracks production around the world, automotive suppliers have demonstrated a steady rate of growth. As of November 19, the industry has topped pre-COVID rates of production. Analysts, including those at Moody's, say the automotive industry has a stable outlook. At the same time, new vehicle inventory shortages persist, meaning we expect automotive manufacturers to continue to work at an elevated pace to satisfy market demand over the weeks or months ahead.
The food and beverage (F&B) industry is also seeing increased rates of activity as of the end of November. Some manufacturers are even producing at double the rate they were pre-COVID. If we look at year-over-year trends, F&B activity should continue to rise on average until the holiday season begins in the last half of December.
Interestingly, no segment we track has faced sustained drops in production. Instead, activity has increasingly reflected year-over-year trends, indicating the industry as a whole is continuing to normalize.
JR: Looking at the sectors that are performing well right now, what do you feel sets the top performers in those industries apart from the others?
BB: The top performers are the ones who jumped ahead early in the pandemic — and these companies are now benefiting from long-term gain. Olde Thompson is one example of a Plex Systems customer that pivoted quickly during this time by utilizing supply chain planning software.
Olde Thompson, which is a private label and branded spices and seasonings company, had the foresight to order supplies and maintain its stock levels at the beginning of the pandemic, before global supply chain shutdowns took effect. The company utilized smart manufacturing technology to not only survive through the most challenging period of the pandemic, but also bring on three new customers during this time and double its monthly output between March and May. The combination of smart technology and rapid growth put Olde Thompson in a position of strength and, consequently, it has since acquired another importer and manufacturer of spices to become the largest private brand spice company globally.
Manufacturers are also pointing to the cloud as a key differentiator that helped them get through the worst of the pandemic, and now gives them the visibility they need to respond to customer needs over both the short and long term. We're seeing the conversation evolve away from "do we adopt the cloud?" to "how do we move to the cloud?"
Looking ahead, we also see increased investment in plant floor and warehouse automation equipment and technology. We expect to see higher numbers of leading innovations like collaborative robots (or cobots), Industrial IoT solutions, and wearables.
Manufacturers with production lines that are not easily moved – such as those with certain products that require people to work in proximity on the line – can intersperse cobots between operators to increase social distancing without compromising quality and efficiency. Industrial IoT managed remotely can reduce the number of operators needed on the plant floor while improving overall equipment effectiveness, or OEE. And, wearable technologies can help make critical workers more effective while helping them manage highly interactive activities, such as machine maintenance or accessing work instructions.
JR: What other trends do you see as we look ahead at 2021?
BB:  As the COVID-19 crisis has demonstrated, managing the resilience of the supply chain is crucial. In an effort to minimize the impact of localized disruption, manufacturers we work with are exploring ways to diversify their supply chains. This has included finding new vendors, exploring new geographies, and building redundancies.
Manufacturers are also working to implement supply chain planning processes and technologies that give them the ability to have more control over inventory, balance safety stock, and work against accurate forecasts. 
Re-shoring initiatives will also become a priority to ensure that U.S. manufacturers can have greater control over their ability to supply the U.S. market. No one wants to face supply chain disruption at the scale of the COVID-19 pandemic again. That's why we're seeing reshoring and nearshoring emerging as trends because of their ability to potentially help U.S. manufacturers guard against this happening. Two of the regions that stand to be most impacted by reshoring or nearshoring initiatives include China and Mexico, both of which are stable as of November.
In China, this rising production could continue for some time, given the reality of the cost and time to reshore. According to Bank of America, "Foreign firms looking to move their manufacturing processes outside of China in the wake of coronavirus could face $1 trillion in costs over five years." In addition, some of the legislative activities designed to motivate reshoring from China to the U.S., including the Reshoring American Manufacturing Act and new tax credits for companies that bring jobs from China back to the U.S., have stalled.
Mexico could increasingly benefit from U.S.-China trade and tech wars over the same time period. "Mexico offers direct access to U.S. markets, few or no tariffs, established supply chains, fuller intellectual property rights and 26 percent lower labor costs than China," says Bank of America. "Mexico annually graduates the fifth-largest number of engineers in the world and its proximity to the U.S. drives 65 percent savings in transportation costs and 75 percent faster shipping times."
The bottom line is that whether we're talking about reshoring activities back to the U.S., or countries nearshoring operations to be closer to their global customers, we are likely looking at a shift that will take place over years, indicating that supply chain transformation could be a long-term effort.
JR: If you could grant U.S. manufacturers one wish, or provide them with one new capability or super power, what would it be?
BB: If I could grant manufacturers super powers, I would give them the flexibility and foresight needed to navigate what's to come in 2021 and beyond. The good news is that both flexibility and foresight are highly achievable and likely closer in reach than some may think, given the maturity of smart manufacturing technology solutions today and the period of innovation that historically follows economically challenging times.