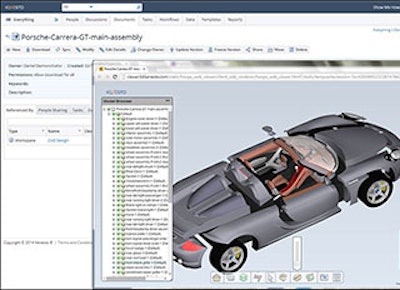 Stephen Bodnar, senior vice president of strategy and products with Kenesto, took some time to talk with Manufacturing Business Technology about his company and what it has to offer manufacturers. 
Can you give me a brief history of the company?
Kenesto was established in March of 2011 by serial entrepreneur, Michael Payne. Kenesto offers the world's premier cloud-based Collaborative [engineering] Project Execution solution designed for businesses of all sizes.  With corporate offices in Boston and Tel Aviv, Kenesto has embraced the advent of "cloud" and the "social technology revolution" as rare and transformational events, creating opportunities for companies to collaborate in new and more effective ways across their value chains, while simultaneously improving operational IT expenditures.
Unlike the less-secure, consumer-oriented collaboration and management tools, or the traditionally-deployed behemoths, such as Lifecycle Management, ERP or Business Process Management systems, Kenesto was built from the ground-up as a simple-to-use, flexible, cost-effective, all-in-one business environment deployed on an enterprise-secure, multi-tenant, cloud backbone. The Kenesto solution brings the computing concepts of today's generation together with the ability to share, organize, manage and collaborate using both ad-hoc and pre-defined concepts.
Whether customers need security and workflow process added to simple content sharing, or they wish to properly manage Requests for Quotes (RFQ), Decision Support, BID Management, Change Management (ECR), or other business processes across their value-chains, Kenesto is their solution.
What products/services does Kenesto offer manufacturing companies?
Cloud Native Collaborative Project Execution.  Built on the cloud from its inception, Kenesto is a cloud-based Collaborative Project Execution solution that incorporates the benefits of social interaction through its all-in-one service for team discussions, file and content sharing, collaboration, project organization, task management, workflow enablement, and more. Kenesto is uniquely designed for Product Development to enable activities such as:
Engineering & Design Review
Procurement & Bid Processes
Requirements Management
Contractor Approvals and Management
Partner Collaboration, Change Management
New Product Introduction
BOM Management
Issue Tracking
Field Inspections
Quality Inspections
Supplier Management
Regulatory and ISO Compliance
Marketing & Design Collateral Creation
Customers, Sales & Pipeline Management
Are there any new features that users might not be aware of?
Yes, Kenesto's Latest New Features include:
Personalized Dashboard with a "New TIPS" area
Drag and Drop documents from your desktop or device directly to Kenesto
Editing documents in the cloud with Microsoft 2010 or above version of Word, PowerPoint or Excel (using the following extensions: .docx, .pptx, and xlsx.)
How do these products/services best serve manufacturing companies?
Unlike many consumer-grade cloud solutions that enable basic file sharing and other collaboration, including task execution, Kenesto's solution is both all-in-one, but also supports CAD models and concepts such as Bills-of-materials.  In addition, Kenesto was designed to support company-to-company collaboration in a secure manner, which doesn't require supplying system logins with partners. This is an important distinction, not available with other tools in the marketplace.
What does Kenesto do to stand out from others?
Cloud-native.  Understands CAD.  File collaboration centric, with added features such as discussions, tasks, workflow, forms and custom data items.  Supports company-to-company collaboration. 
What's up next for the company? Where's it heading?
We have some very interesting things under development, which we believe will really make Kenesto stand-out for companies that do product development and 3D design.
For more information, please visit www.kenesto.com. 
---
To read more manufacturing and technology news, sign up for our newsletter. You can also follow Manufacturing Business Technology on Twitter @MBTwebsite.