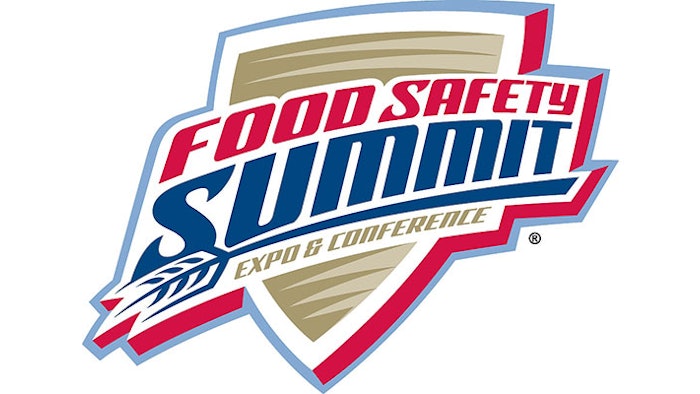 The 19th Annual Food Safety Summit will offer a dynamic panel of speakers from industry and government, during the opening day keynote presentation, who will address the most important issues facing food safety professionals. Jeffrey Steger, US Department of Justice (DOJ); Craig Wilson, Costco; Dave Gombas, United Fresh Produce Association (retired); Shawn Stevens, Food Industry Counsel and Kathy Gombas, formerly with the FDA, will discuss issues ranging from the implementation of the Food Safety Modernization Act (FSMA) to the role of the DOJ. The Hot Topics in Food Safety keynote will be moderated by Dane Bernard and will be presented on Wednesday, May 10 at 9:15 am during the Food Safety Summit which is taking place from May 8-11, 2017 at the Donald E. Stephens Convention Center in Rosemont, IL.  
"These industry leaders will give the Summit participants knowledge and understanding of what is changing and needs to change in their food safety programs and information about the implementation of the Food Safety Modernization Act, Litigation, International Implications of the FSMA Rules, and Corporate Commitment," said Scott Wolters, Director, Tradeshows & Conferences for BNP Media, producers of the Food Safety Summit. "Our attendees will hear about the impact of recent recalls, food fraud, and Food Defense; as well as understanding the impact of produce, foreign supplier verification and the intentional adulteration rule on food companies here and abroad."
 
In addition to the keynote, the Summit will also offer two plenary sessions where attendees will have a chance to interact with the leaders of food safety at the FDA, USDA, CDC and AFDO as well as participate in a session dedicated to case studies from recent foodborne illness outbreaks. On Thursday, May 11th at 9:15 am the Summit will host its 6th annual Town Hall meeting where attendees will be able to participate in a candid and interactive discussion on the latest food safety issues with key government officials. Panelists will include Dr. Stephen Ostroff, Acting Commissioner of Food and Drugs for the FDA; Alfred Almanza, Deputy Under Secretary for Food Safety, USDA; Joseph Corby, Executive Director, AFDO and Dr. Robert Tauxe, Director, Division of Foodborne, Waterborne and Environmental Diseases, CDC. The Town Hall will be moderated by Gary Ades, PhD, President, G&L Consulting Group and Chair of the Food Safety Summit Educational Advisory Board.
The Summit will close with one general session on Thursday, May 11 at 4:15 pm with four dynamic and respected leaders in the industry who will present Case Studies from Recent Foodborne Illness Outbreaks. The panelists will include Shawn K. Stevens, Food Industry Counsel LLC; Matthew Wise, MHP, PhD, Outbreak Response Team Lead, CDC, and William Marler, Managing Partner, Marler Clark, The Food Safety Law Firm. The session will be moderated by Will Daniels, Principal, Fresh Integrity Group, LLC.
 
Matthew Wise will provide an overview of the current state of outbreak investigation capabilities, as well as anoverview of the investigations in the Blue Bell ice cream, General Mills flour, and I.M. Healthy soynut butter cases. Bill Marler will provide his perspective, as a food safety lawyer, on the findings of the regulatory investigations as well as the food safety operational and cultural failures which led to product contamination and the resulting outbreaks. Shawn Stevens will provide his perspective, as a food industry lawyer, on common and obvious mistakes he sees others in the industry repeating which could lead to the same consequences as discussed in the case studies. Will Daniels will moderate a question and answer session.
 
Beginning on Monday, May 8th six certification courses will be offered including Preventive Controls for Human Foods, Preventive Controls for Animal Food, FSPCA Foreign Supplier Verification Program Training, Produce Safety Alliance Grower Training, Seafood HACCP, and Professional Food Safety Auditor Training. For additional information on each of these courses and to register, click here.  
 
In addition to the certification programs there will be several hands-on learning opportunities in four half-day workshops, which allows for more extensive and interactive education with expert panelists and industry peers. Workshops on Tuesday, May 9th include The Latest in Listeria Control; Preventive Controls and Sanitary Food Transportation Act (SFTA): The Basics and Sustainment; A Guide to Success as a Food Safety Professional; and Integrated Food Safety System Update. Attendees will then have access to 20+ education sessions, access to the exhibit hall, and networking events. Registration is open and the full conference program is now available live at www.foodsafetysummit.com.  
 
About the Food Safety Summit
The Food Safety Summit is a solutions-based conference and expo designed to meet the educational and informational needs of the food industry including growers, processors, retailers, distributors, foodservice operators, regulators and academia.  The event will be held Monday, May 8 through Thursday, May 11, 2017 at the Donald E. Stephens Convention Center in Rosemont, IL.  The event is produced by BNP Media (www.bnpmedia.com), one of the country's leading business-to-business media companies serving professionals across 50+ industries. Details and registration information are available at www.foodsafetysummit.com.