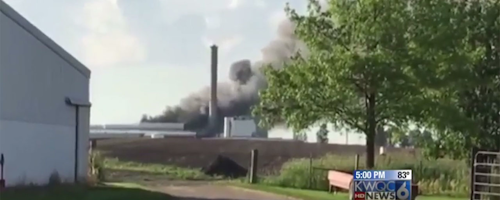 OSHA investigators are looking into what caused an explosion at a glass manufacturing plant that injured 5 workers.
The explosion occurred at Guardian Glass in DeWitt, Iowa on Saturday, June 3. Five employees were injured in the incident.
In a statement on Facebook, the company said that all employees hurt in the incident were "released from care without serious injury."
"Our hearts go out to these employees and their families," the statement continued. "While we do know last night's incident involved natural gas, this is still under investigation and we are assessing the extent of the damage to the east side of the plant."
The plant — which manufactures float and fabricated glass products for commercial, residential and transportation applications — announced plans last year to fix a float glass furnace as well as expand production. As part of the $17 million project, the company also planned to add environmental controls to settle EPA Clean Air Act violations.
A building inspector reported he had been visiting the plant two to three times each week for the last six weeks and hasn't had any issues with the work being done.
KWQC reports that in 2012 emergency crews responded to the plant, as a safety precaution, for a "small leak" in a glass furnace that was found during regular maintenance.
The incident is under investigation by OSHA officials.