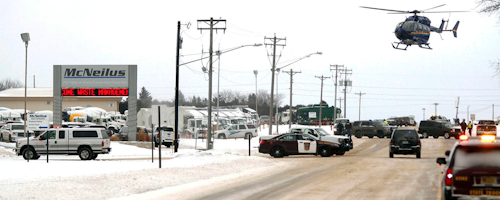 Six people were injured during an explosion at a truck plant in southeastern Minnesota on Wednesday.
Officials say more could have been injured, however McNeilus Truck & Manufacturing Inc. employees, who would normally have been in the area were at a training exercise off-site. The facility is located in Dodge Center, MN.
The blast occurred at the paint shop around 10:30 a.m., Dodge County Sheriff Scott Rose told the St. Cloud Times.
Six people were injured in the incident. Two were taken by medical helicopter and two were taken by ambulance to nearby hospitals. Their conditions were not immediately available. The sheriff said two others were treated at the scene for minor medical issues.
Oshkosh Corp. spokeswoman Katie Hoxtell told the Associated Press that five injured employees were "under medical care." However, she said she could not give details. McNeilus is part of Oshkosh Corp. in Wisconsin.

All employees were accounted for, officials say. Production was closed for the day at the facility during the investigation. Minnesota Occupational Safety and Health investigators also will investigate the incident.
The McNeilus Dodge Center facility  produces cement trucks and refuse trucks. The plant is located on approximately 145 acres and employs 1,450 people, including 1,100 production staff members.