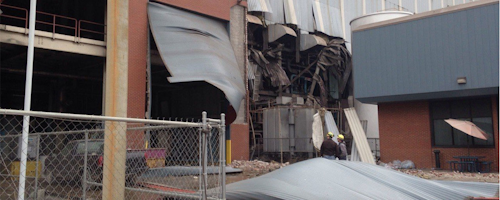 Six people were injured in an explosion at a coal-fired power station in Ohio on Tuesday.
An explosion was reported at the J.M. Stuart Generating Station around 1 p.m. The four-unit power plant, owned and operated by Dayton Power and Light (DPL), is located four miles east of Aberdeen, OH.
DPL Officials said in a statement that all six people injured in the incident were treated for non-life threatening injuries.
The video below by WCPO shows the 911 emergency call placed by an employee moments after the explosion.
Reports from local news organizations say rumbling from the incident were felt for miles.
Photos from the plant show building damage including walls and doors blown out.
A first responder at the scene told The Ledger Independent that the damage was some of the worst he had ever seen that didn't result in more severe injuries or even a death.
"God was watching over the workers at that unit today," he said. "There were I-beams dangling and tossed 30 feet from the plant."
Employees report the explosion occurred in Unit 1 which has a turbine generator. About 300 employees work at the J.M. Stuart Generating Station.
DP&L officials say the plant was evacuated and all employees and contractors were accounted for. Officials are working to confirm details on the incident.