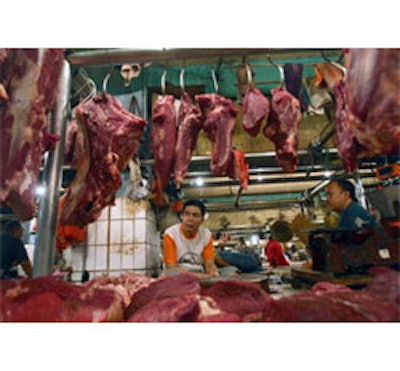 JAKARTA, Indonesia (AP) — Indonesia became the first country to suspend imports of U.S. beef Thursday following the discovery this week of an American dairy cow infected with mad cow disease.
Reaction elsewhere in Asia, however, was muted with no immediate signs some of the biggest consumers, South Korea and Japan, would follow suit. Both countries are close U.S. allies and their governments are balancing that key relationship against the protectionist demands of their domestic meat industries.
"We will lift the ban as soon as the U.S. can assure us its dairy cows are free of mad cow disease," said Indonesia's Vice Agriculture Minister Rusman Heriawan.
"It could be one month or one year," he told reporters. "It depends on how long it takes to resolve this case."
The new infection is the first in the U.S. since 2006. It was discovered in a dairy cow in California, but health authorities said Tuesday the animal was never a threat to the nation's food supply.
Mad cow disease, or bovine spongiform encephalopathy, is fatal to cows and can cause a deadly brain disease in people who eat tainted beef. U.S. authorities said the dead California cow had what scientists call an atypical case of BSE, meaning that a random mutation in the animal rather than infected cattle feed was the cause.
Indonesia last year imported 20,000 tons of American beef — a tiny fraction of U.S. beef shipments.
Even before the new mad cow case, Indonesia had said it wanted to reduce its dependency on beef imports, with the ultimate goal of becoming self sufficient.
U.S. Trade Representative Ron Kirk said during a stopover in Singapore there was no evidence any contaminated product had entered the food chain.
"The U.S. absolutely respects the right of any country to protect the health of its citizens," he said. "But in the case of restrictions of food products from our market, it must be done in the context of evidence of sound sanitary standards as established by the World Health Organization."
"There is no reason for any consumer to be concerned about the consumption of U.S. beef," he said. "Thus, we would expect that Indonesia would quickly reopen its market for U.S. beef products."
South Korea, the world's fourth-largest importer of U.S. beef, said it was stepping up inspections and one major retailer decided to pull meat off its shelves.
But there were no plans to ban imports following the Indonesian announcement, said Jeon Jong-min, director of the agriculture ministry's quarantine policy division.
"We make a decision based on our independent evaluations," he said. "We maintain our decision to step up inspections."
Japan, the world's third-largest consumer of U.S. beef and veal, earlier said the country's import policy was unchanged.
___
Associated Press writer Alex Kennedy in Singapore and AP Business Writer Youkyung Lee in Seoul, South Korea contributed to this story.