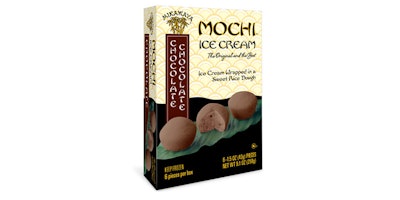 LOS ANGELES (AP) — Mikawaya has recalled a batch of its chocolate mochi ice cream sold at Trader Joe's stores because the product contains peanuts, the ice cream maker said Thursday.
Peanuts are not listed as an ingredient on the boxes of Japanese-style ice cream desert with a coating of pounded sticky rice.
People who have an allergy to peanuts run the risk of serious or life-threatening allergic reaction if they eat the product, the Los Angeles based company said in a statement.
The ice cream is sold at Trader Joe's locations across the U.S. but Mikawaya spokesman Russell Barnet did not know how many boxes were affected or the locations of the stores where the ice cream was sent.
No allergic reactions or illnesses have been reported, Mikawaya said.
Customers can return mochi ice cream with the code "LOT 090-17" for full refunds.