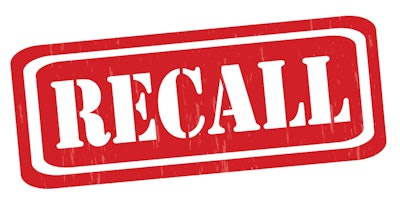 Frito-Lay last week announced it would recall two varieties of potato chips due to concerns that their seasoning could be contaminated with salmonella.

In the recall notice posted by the U.S. Food and Drug Administration, company officials attributed the problem to jalapeño powder in a supplier's seasoning blend.

The recall affects Jalapeño Flavored Lay's Kettle Cooked potato chips and Jalapeño Flavored Miss Vickie's Kettle Cooked potato chips, as well as multiple-bag packs that include those flavors.

The chips were distributed in retail and other channels throughout the U.S.

Frito-Lay said that it is working with regulators to cease distribution of affected products and pull them from store shelves. Consumers that purchased the chips were urged not to consume them.

No salmonella was found in the seasoning supplied to Frito-Lay and the chips in question were not responsible for any confirmed illnesses as of late last week. Salmonella can cause serious infections and could be fatal to young children, the elderly or others with weakened immune systems.