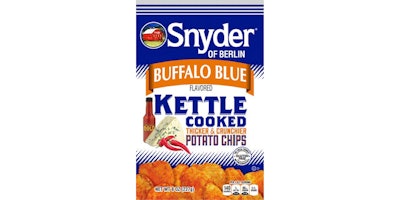 BERLIN, Pa., Dec. 19, 2016 (PRNewswire) — Snyder of Berlin is warning consumers not to consume Snyder of Berlin Buffalo Blue Kettle Cooked Potato Chips, after being informed by a supplier that a milk powder used within a spice blend ingredient may contain Salmonella. Consumers should not consume the recalled product with the Product Codes listed below:
Brand Name

Common Name

Size

UPC

Product Codes

Snyder of
Berlin

Buffalo Blue Kettle
Cooked Potato Chips

8 oz
(227g)

0 23000 43922 9

FEB2117M77A,
FEB2117H44A,
FEB2117H44B,
FEB2817H77A,
MAR0717H77A,
MAR2117M77A
The recalled product was distributed only in the following states:
Pennsylvania
Ohio
Virginia
West Virginia
Kentucky
Indiana
Maryland
New York State
Tennessee
The Food and Drug Administration (FDA) has been made aware of this recall. No other Snyder of Berlin products were affected. This is an isolated incident.
To date, there have been no reported illnesses associated with this product. Food contaminated with Salmonella may not look or smell spoiled but can still make you sick. Young children, pregnant women, the elderly and people with weakened immune systems may contract serious and sometimes deadly infections. Healthy people may experience short-term symptoms such as fever, headache, vomiting, nausea, abdominal cramps and diarrhea. Long-term complications may include severe arthritis. If you believe that you became sick from consuming a recalled product, seek medical attention immediately.
Consumers should throw out or return these products to the point of sale for a full refund.