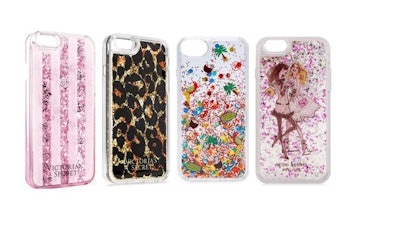 They look fun, but it turns out those glittery iPhone cases could be a tad dangerous.
Around 275,000 of the cases with glitter suspended in liquid have been recalled because they can leak and cause chemical burns, blisters and skin irritation.
The cases were sold by several major retailers including Amazon, Victoria's Secret, Nordstrom Rack, Tory Burch and GetMixBin.com.
So far, there have been 24 reports of injuries due to the phone cases around the world — 19 of the cases were in the U.S. According to the Consumer Product Safety Commission, one person suffered permanent scarring.
Reports about glitter cases causing chemical burns have been mounting since last year.
The official recall listing does not include information about what kinds of chemicals are used inside the glitter cases. But in 2016, the National Consumer Affairs Center of Japan conducted an analysis of different cases and found that some brands contained hydrocarbons that can be volatile even at low temperatures. One brand was composed of "straight-chain hydrocarbons such as tridecane and tetradecane." Other brands also contained mineral oil, which is widely used in cosmetic products and is not considered to be harmful for human skin.
The cases affected by the current recall were sold between October 2015 and June 2017 and manufactured in China.
Click here for more information on the cases affected by the recall.