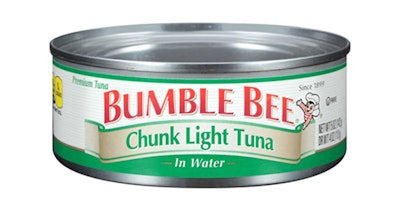 On Thursday, Bumble Bee Foods issued a voluntary recall of more than 31,000 cans of tuna citing concerns that the product could have spoiled.
According to the Food and Drug Administration, the company recalled three different types of its Chunk Tuna Light due to "process deviations that occurred in a co-pack facility not owned or operated by Bumble Bee."
A total of 31,579 cases were included in the recall, and all were produced in February 2016 and distributed nationwide. The recalled products are all marked with a can code that begins with a "T," and Bumble Bee provided a complete list of the "best by" dates on the company website.
Bumble Bee said that the recall was initiated "out of an abundance of caution" and that it "is working closely with the co-packer and the FDA to expedite the removal of products from commerce."
Tri-Union Seafoods also issued a voluntary recall of more than 100,000 cans of its Chicken of the Sea brand following Bumble Bee's Thursday announcement.
Similar to Bumble Bee's recall, the FDA said the Chicken of the Sea recall was also due to deviations in the commercial sterilization process specifically citing an equipment malfunction that could have undercooked the product.
Chicken of the Sea consumers were advised to check the "best by" date and lot code to determine if their can is one of the recalled products.
The FDA says any deviation in the commercial sterilization process could result in "contamination by spoilage organisms or pathogens, which could lead to life-threatening illness if consumed."
To date, there haven't been any reports of illness associated with either brand's recalled products, but consumers are advised to throw away any cans of the affected tuna.
Do you think it's odd that two different companies recalled their canned tuna citing similar reasons on the same day?
Comment below or tweet me @AbbDean.