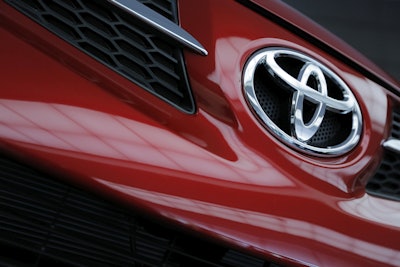 An investigation by Canadian safety regulators into a crash that killed two people touched off a global recall of nearly 2.9 million Toyota SUVs, according to U.S. government documents posted on Thursday.
Last week Toyota announced the huge recall because the rear seat belts can be cut in a severe crash. If that happens, the belts won't restrain passengers.
Canadian investigators found the problem in crash tests done after two rear-seat passengers died in a May, 2011, collision in Eastern Canada between a Toyota RAV4 and a Chevrolet Silverado pickup. The front-seat occupants survived.
The unusual crash drew interest from Canadian regulators, who did crash tests in October and found that the belts could come in contact with a metal seat cushion frame in a severe crash. Transport Canada, the Canadian auto safety regulator, presented its findings to Toyota, which did its own investigation and confirmed the problem, according to a Transport Canada statement.
"As a result of the department's investigation into this safety issue, lives will be saved in Canada and around the world," Canadian Minister of Transport Marc Garneau said in a statement. The Canadian government said that Toyota Canada cooperated in the probe and was not aware of the safety issue until Transport Canada's investigation.
Included in the recall are 1.25 million RAV4s in the U.S. and Canada from the 2006 through 2012 model years and the RAV4 electric vehicle from 2012 through 2014. Also included is the Vanguard sold in Japan from 2005 to 2016, the Japanese automaker said last week. Vehicles in Europe and China also are affected.
Toyota says dealers will add plastic covers to the frame at no cost to customers.