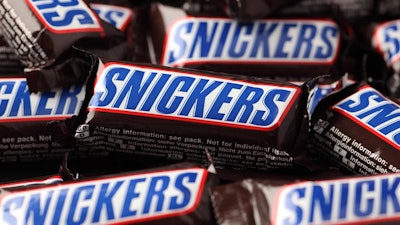 On Tuesday, U.S.-based chocolate maker Mars issued a voluntary recall of its candy bars in 55 countries after a piece of plastic was found in a Snickers bar in Germany.
According to a statement from Mars, the recalled candy was produced in its Netherlands facility and includes a selection of Snickers, Milky Way, Celebrations and Mars bars.
A spokesperson for Mars Netherlands told the Associated Press that the recall affected 55 countries but did not go into more detail. However, Mars Germany confirmed that it was one of the counties affected and Reuters reported that the recall was mainly limited to European nations.
"We cannot be sure that this plastic was only in that particular Snickers," a spokesperson from Mars Netherlands told Reuters. "We do not want any products on the market that may not meet our quality requirements, so we decided to take them all back."
To determine whether or not consumers might have a recalled product, the chocolate maker recommends checking the label — if the candy is not labeled "Mars Netherlands," then it isn't included in the recall.
Mars, one of the world's largest food companies, believes that the plastic found in the Snickers bar in Germany is an isolated incident.
Do you think Mars should have issued a voluntary recall of this scale?
Comment below or tweet me @MNetAbbey.