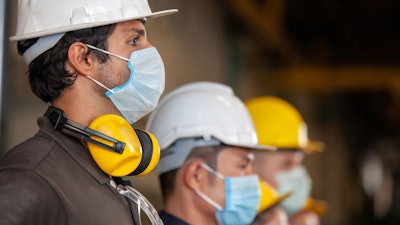 iStock
When it comes to manufacturing, workplace safety has always been of paramount importance, and this has only been amplified during the coronavirus pandemic. Many plants and factories have already experienced outbreaks, showing the difficulties of containing and controlling the spread. Additionally, those working in manufacturing facilities can face extra risks, as social distancing and ventilation can often be challenging in places like warehouses and factories.
These risks, though prevalent, can be mitigated by implementing measures to keep employees safe and healthy as they return to work. Manufacturers must go the extra mile to ensure their employees are up-to-date and informed on new protocols and guidelines. Here are some best practices manufacturers can put in place to better protect and communicate with employees during the coronavirus pandemic.
Have emergency plans in place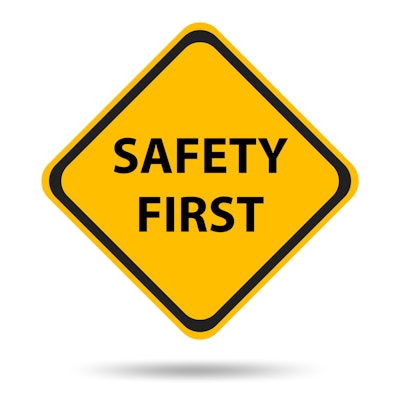 Even before the coronavirus pandemic hit, manufacturing was an industry filled with risks — according to the Bureau of Labor Statistics, there were 342 fatal injuries and 395,300 non-fatal injuries in the manufacturing industry in 2018. Therefore, manufacturers already know that emergency response plans are critical to keep a facility running safely, but especially so during a pandemic.
To develop emergency plans, facilities must undergo a risk analysis assessment to identify strengths and weaknesses of their space, and evaluate what safety measures must be taken to keep everyone inside safe. From there, employers should make appropriate emergency response plans to encompass crisis events such as evacuations, lock downs and shelter-in-place orders.
To undergo a risk assessment and develop an emergency plan specifically to address the coronavirus, facility managers should consult their state and local coronavirus guidelines to understand appropriate protocols. Some items that should be top of mind when developing a COVID-19 plan should include how and when to social distance, mask usage, testing protocols and how to appropriately notify employees should there be an infection in the facility. That last piece is especially important given facilities often have multiple shifts, and not all employees are on site at the same time to hear about an update in person.
All emergency plans — whether coronavirus related or not — should be easily accessible to employees, whether that be through an online safety portal or app, or posted throughout the facility. Employees should be familiar with the plans, but also have the option to review them quickly so they know how to react in any given emergency.
Utilize Communications tools
An essential part of emergency response plans is having a solid communications strategy in place. Whether it's the threat of potentially dangerous, inclement weather or a notice about a coronavirus case in the facility, employees and visitors must be quickly alerted in the event of an emergency.
Communication tools — such as mass notification systems, personal safety apps or mobile panic buttons — are critical to this distribution of information and can help save lives. By alerting employees in real-time, manufacturers can equip them with the information and instructions needed to make the best decisions for their safety and wellbeing. These tools can also provide details on emergency response procedures so employees can follow the plan, which may not be top of mind during what could be a chaotic moment.
However, these tools can be used beyond internal communications, and can connect facilities directly to 911 and local authorities so they can execute a quicker response in the event of an emergency. For example, if an injury occurred on a factory floor, a tool like a mobile panic button could immediately alert EMS, sharing important information — such as the exact location of the injured person in the facility — thus saving valuable time in the response.
Adopt Best Practices
While communications strategies and emergency response plans are critical to keeping employees safe, manufacturers can also take smaller — yet still impactful — actions to mitigate risk throughout the facility.
In addition to practicing social distancing and conducting daily temperature checks, employers must also think about what goes on in the facility on a day-to-day basis to help limit the spread of the virus. For example, is there a shared kitchen in the space that needs to be closed off? Are their hand sanitizing stations set up throughout the facility? Is there a space for employees to eat lunch outside rather than inside? Examining the actions employees take and places they go throughout the workday will help manufacturers identify, and eliminate, chances for spread.
Another simple step manufacturers can take is conducting daily health check-ins with their employees over text. When responses are collected before shifts begin, employers can know in advance if an employee should stay home. These check-ins can help give employers updates on the wellbeing of their workers as well as proactively protect everyone who comes into the facility.
Lastly, it is important to provide employees with an easy flow of communications, whether that be single button call or discreet two-way text communications to a centralized response team to report symptoms or even breakdowns in protocol, and failure of others to follow protocols.
The Final Word
The coronavirus pandemic has been hard to navigate across industries, especially for manufacturing. However, by having the appropriate tools and procedures in place, manufacturers can keep their employees healthy and safe, while also supplying them with the information they need to stay smart and efficient as they return to work.
Bill Homer is the Senior Director of Solutions Architecture at Rave Mobile Safety. He has been with Rave for over 13 years, spending his first nine largely focused on Services and Support. He has personally been involved with hundreds of deployments of all solutions across all of the various verticals. Bill is now heavily engaged with the Sales team to provide technical and solutions expertise in the pre-sales process.