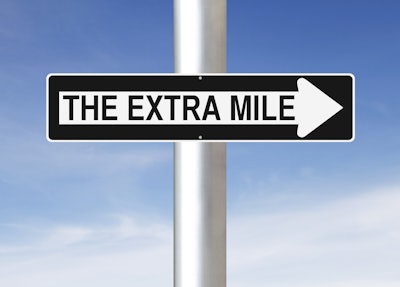 If there are injuries in your workplace, there is a weak spot somewhere in your health and safety program. One area to check is your implementation.
You may come up with the most comprehensive and most well-intentioned program ever, but if worker compliance isn't 100 percent, injuries will continue to plague your workforce.
The goal should always be zero injuries and zero fatalities. But this is not the case for many businesses, especially hazard-filled environments like manufacturing plants. Among other troubling statistics, the Bureau of Labor Statistics reported a steady rise in fatalities between 2008 and 2016, from 4,551 to 5,190, with a 22 percent increase in fatalities caused by "exposure to harmful substances or environments."
Fatalities and injuries are tragic. Beyond the human suffering involved, the company also suffers financially. This was established in The Cost of Poor Safety Compliance, Part I of this three-part series focused on why you should make safety a priority: safety is the foundation of good business.
Part II explored all that should be included in your safety program and that just meeting regulatory expectations is not enough. This final article will cover how to successfully put your safety plan into action.
The Power Of Repetition
Everyone benefits from being reminded about good ideas. When stressed or tired or doing a complex job, it's easy to forget every detail about safety (in fact, fatigue and stress are two of the primary causes of workplace accidents). That's how mistakes happen, even by the most well-meaning people. A key to compliance, then, is repeat, repeat, and repeat again, so that safety becomes ingrained in everything your workforce does.
Concerned about overwhelming workers to the point that they don't pay attention anymore? Ask them if that's the case, then adjust your message to home in on what works.
Make It Funny
Get creative with your frequent messages by adding humor. If you get people laughing, you get them paying attention. Find inspiration in others who've done this, like the safety video message featuring the men and women (and a dog) of the New Zealand police, fire, and ambulance services.
They want to remind people to drive slower and drive sober over the holidays. In the style of carpool karaoke, they sing their message to the tune of Jose Feliciano's Feliz Navidad. I challenge you not to laugh.
What an excellent way to spread the rather dull information that all of us already know, but too often disregard. Or consider the viral videos of the in-flight crew members who turn that dreadfully boring pre-flight safety announcement into a stand-up routine.
Say It Many Ways
When you are repeating your messages, also be sure to deliver them in a variety of ways. Different people learn in different ways, and a new form of delivery will keep your message fresh.
Put up colorful posters in high-traffic areas. Show videos. Send short emails. Role play exercises with employees in pairs or groups. Create short quizzes or safety challenges with the offer of prizes.
What other ways can you think of to share your passion about safety with your workers? Try it out. The intent is to always keep safety in the forefront of your employees' minds.
Get Your Whole Team On Board
Getting your workforce involved in keeping everyone healthy and safe is critical. They are the ones who experience the workplace hazards and know when equipment is broken or worn out. They can also be your eyes and ears in the workspace, making certain that coworkers are complying with safety protocols and learning about potential hazards that need to be addressed.
Consider designating a safety captain, someone to whom others can report, and who meets with management regularly to relay safety information. Also, provide a way for employees to give anonymous feedback about violations they've witnessed or other health and safety concerns.
Hold regular safety meetings with your staff and make some of them informal, or have a time when people can mingle. When people are relaxed and in a friendly setting, they'll be more likely to open up.
The Importance of Rewards and Demerits
Everyone likes to be recognized for a job well done; it's a surefire way to reinforce good behavior. Celebrate no-injury days, weeks, or months with a show of appreciation like a company lunch, a paid half-day off, or a bonus. Remember, for every laceration not experienced, you're saving at least $41,000. That's a lot of pizza!
Present awards to, or otherwise publicly acknowledge, those who regularly make the extra effort to keep the workplace safe; be specific about the actions those people have taken to ensure the safety of their coworkers. Has anyone come up with a particularly helpful safety idea or in some other way helped prevent an injury? Let them know you appreciate their efforts.
Unfortunately, not all employees will be model safety citizens. When people do not follow protocol, this too must be strongly addressed. Make it very clear what the consequences are for safety violations and carry them out to the letter. Employees need to understand that there is a no-tolerance policy when it comes to noncompliance.
Emphasize that safety is a team effort: workers who don't abide by proper precautions put not only themselves in danger, but also those around them. When someone doesn't stack overhead materials securely, those items are likely to fall on someone else. While this sounds simple enough, objects falling on people is one of the most common causes of workplace injuries.
Because safety is a team effort, encourage co-workers to help each other or to ask others for help when needed. Another common cause of workplace injuries is lifting, which is easily avoided. Workers should first know proper technique and their lifting limits. A person needs to feel comfortable asking for assistance if an object is too heavy for one person to carry. This is where informal time in safety meetings will pay off; it gets coworkers comfortable with discussing safety.
Be Proactive
OSHA notes that traditional approaches to creating safety protocols are often reactive; they come about in response to an accident. Such a reaction makes sense, but, as OSHA suggests, it's better to be proactive. This is where input from workers will be very helpful: they are the ones who see where potential accidents are lurking.
Also, walk the work areas yourself on a regular basis to troubleshoot potential harm, as new hazards may arise over time. When you and those around you take the time to think through all the ways people could get hurt, it'll help ensure they won't get hurt.
Safe Employees Are Happy Employees
A comprehensive safety plan and solid implementation strategy demonstrates that employee well-being is the top priority. But it doesn't have to be complicated.
Laurie Shelby, who was recently hired by Tesla to take a fresh look at the company's health and safety program, sums up the big picture well. With her twenty-five years of experience, she says in a recent company blog, "I've learned that most issues can be solved by listening to employees, using common sense, being proactive, and ensuring there is a culture that values safety."
This is a solid path safety. And safe employees are not only happier employees, they also experience greater job satisfaction, are more productive, and stick around longer. It's a scenario where everyone wins.
TJ Scimone founded Slice, Inc. in 2008. He collaborates with world-renowned engineers to reimagine everyday cutting tools such as the safety knife and box cutter.