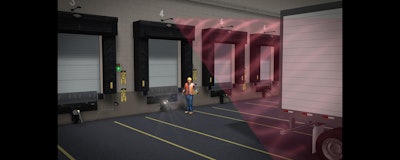 Commonly a low-tech part of an industrial facility, the loading dock carries some seriously high risk. Trailer separation accidents, forklift and pedestrian collisions, and other mishaps can lead to injuries, product and facility damage, lawsuits and a bad reputation.
According to OSHA, more than 20 people are killed by semi-trucks at loading docks every year, and forklift-related fatalities occur every three days. Non-fatal forklift accidents are even more commonplace, with 94,750 reported cases per year. It is estimated that $135 million in direct costs are related to these accidents and indirect costs are likely five times that amount.
Whatever the exact cost is, it is unnecessarily high — particularly when considering that 70 percent of these accidents can be prevented with equipment and technology that already exists. Most of this technology clearly communicates dangers to forklift operators and other workers using LED lights. Some of this technology includes audible alarms for an additional layer of security.
Light Communication Inside The Dock
The traditional red/green signaling system is a familiar fixture at plants and warehouses. Inside, a green light tells the forklift operator the trailer is secured and safe to enter. Outside, the light turns to red, letting the truck driver know that it is not safe to pull away from the dock, as the trailer might still be getting serviced. The lights are reversed when the restraint gets unlocked, telling the truck driver he can depart safely.
In cases where control boxes with these communication lights might get covered by pallets, highly visible LED status-at-a-glance lights at the corners of dock doors and dock levelers have made work even safer for lift truck drivers and dock workers during loading and unloading.
Motion sensor-based safety systems are also becoming popular inside the dock area. One system projects a blue light (similar to forklift safety lights) when activity is detected inside a trailer, alerting workers that a pedestrian or material handling equipment could back out at any moment. Considering that 53 percent of forklift fatalities are the result of workers being struck or crushed by a forklift inside the dock, this is a step in the right direction. This type of system can be integrated with advanced control boxes to keep the vehicle restraint locked to ensure the trailer doesn't pull away with a forklift operator still inside.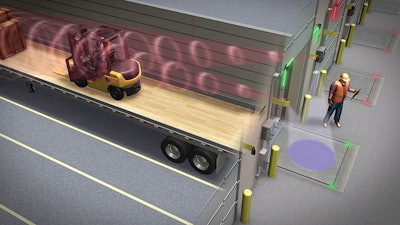 Protecting Workers Outside The Loading Dock
Danger exists outside the loading dock, as well. Of the approximately 60 loading dock-related deaths in the last three years, 60 percent of them involved a worker on the drive approach being crushed by a backing trailer. This unfortunate statistic is often caused by the 53-foot-plus distance between the dock position and the truck's engine, as well as other distractions in the loading dock yard.
To address this challenge, a number of new safety products have been introduced. For example, some vehicle restraints now incorporate an external motion sensor, which triggers an audible and visual alarm to alert workers outside the dock when a trailer begins backing in. These types of multisensory warnings immediately gain the attention of unsuspecting workers who might be in harm's way.
Loading Dock Safety
With heavy equipment moving continually both inside and out, loading docks are among the most dangerous places in any industrial operation. While it will never be possible for facility managers to eliminate human error entirely, more advanced multisensory safety technology is becoming available and easier to implement. Combined with stronger safety protocols and worker training, it is possible to minimize risks and maximize overall efficiency at the loading dock.
Chad Dillavou is a Rite-Hite Products product manager.
The information herein is provided as a general reference regarding the use of the applicable product(s) in specific applications. This information is provided without warranty. It is your responsibility to ensure that you are using all mentioned products properly in your specific application and in accordance with all laws and regulations.