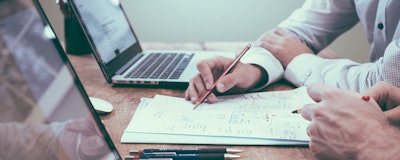 The creation of a safety plan must be a top priority for businesses, whether your business is large, small, has one location or many. Initial consideration should be given as to who will have "ownership" of the safety plan, since the management of the plan is critical to its success. A solid safety plan should include the following five steps:
1) Set Strategic Safety Goals — A company must consider how it will use leading indicators to prevent workplace related safety incidents, how it will react if an incident occurs, and how it will use lagging indicators of safety performance to improve safety within the organization. These three strategic goals will guide the safety program to success if implemented correctly. Safety goals and metrics are most successful and useful when supported by management, and tied to other company goals and objectives.
2) Identify/Control Safety Hazards — One option is to use the job hazard analysis process. This process focuses on the tasks that employees complete, describes the steps of those tasks, and assesses the inherent hazards to those tasks. Once these hazards are identified, the company can focus on controlling them with the use of the following methods:
Engineering Control — Eliminates or reduces exposure to a chemical or physical hazard through the use of substitution or engineering machinery or equipment. Two examples really capture what an engineering control is 1) a machine guard on a piece of equipment. The guard is in place to protect employees from a specific hazard of the equipment and 2) the adjustable saw blade guard on a ban saw is used to protect employees from exposure to the blade while in operation.
Administrative Control — A change in work procedures such as written safety policies, rules, schedules, or training that is intended to reduce the duration, frequency, or severity of exposure to hazardous chemicals or situations. An example of an administrative control is evident when we discuss repetitive motion exposures. The implementation of a job rotation plan may put employees in different jobs for different durations of the day to reduce exposure to repetitive motion. The ability to prevent an employee from repeating the same task all day, every day, is an administrative or work practice control. Another example is demonstrated in jobs that require exposure to occupational noise. OSHA provides a permissible exposure limit (PEL) to occupational noise and by rotating jobs and moving employees out of high noise areas; a company would be able to reduce employee's exposure to noise below the permissible threshold. If engineering controls or administrative controls cannot eliminate the hazard, the use of personal protective equipment may be necessary.
3) Develop and Maintain Written Safety Programs — Employers must focus on developing company specific written safety program documentation to address company policy on how to approach those hazards. However, all programs should be designed to outline the expectations of employees when it comes to safety in the workplace as well as how the company will meet regulatory requirements. These programs can cover many different topics such as Bloodborne Pathogens, Emergency Action Plans, Machine Guarding, and Personal Protective Equipment, just to name a few. Written safety programs should only cover applicable topics and be customized to the workforce and their hazards. Unrelated programs could interfere with worker understanding of the programs.
A written safety program is traditionally a compilation of company policy and regulatory compliance documents. The minimum requirement of any plan is to meet the required local, state, and federal regulations. Regulatory compliance dictates how some programs should be developed and the Occupational Safety and Health Administration (OSHA) provides guidance on this process.
OSHA expects all employers to complete a workplace hazard assessment to identify hazards and then subsequently protect their employees from those hazards. OSHA outlines the following steps for development of a job hazard analysis.
Involve your employees
Review your accident history
Conduct a preliminary job review
List, rank, and set priorities for hazardous jobs
Outline the steps or tasks
4) Evaluate Progress — It is also very important to ensure that the program is sustainable, continuously improved, and evaluated on at least an annual basis if not more often. New safety technologies and techniques are introduced on a frequent basis and it is essential that the organization stay on top of the new trends in safety management.
Continuous evaluation and improvement of the safety program and processes is crucial to the success of the plan. An annual audit of the workplace to evaluate policy conformance and regulatory compliance is important to ensure processes are being followed. This would traditionally be a physical audit of the facility operations and documentation. The audit will allow the employer to identify gaps in the program and to ensure that corrective actions are implemented to protect workers.
5) Implement/Execute Safety Program — This requires the employer to provide direction to their employees on the topics covered in the safety program. This is normally completed by providing job task specific training to employees related to the hazards that they will encounter in the workplace. These trainings should be developed using the job hazard analysis used to create the written safety programs as a guide.
The focus of the job hazard analysis process is to identify what could go wrong, the consequences of something going wrong, and how likely the hazard will occur. A good job hazard analysis will describe a hazard scenario and then outline who it could occur to, how exposure to the hazard could occur, what could trigger the hazard, the potential outcome or injury, and any other contributing factors.
New safety technologies and techniques are introduced on a frequent basis and it is essential that the organization stay on top of the new trends in safety management. These five steps are a good way to ensure the safety of your employees.
Matt Thompson is currently a Regional Safety Manager for Kloeckner Metals Corporation based in Roswell, GA. Matt has his undergraduate degree in Risk Management and Insurance and his Masters of Business Administration (MBA) both from the University of Georgia. Matt is a Certified Safety Professional (CSP) which was obtained through the Board of Certified Safety Professionals. He is also an active member of the American Society of Safety Engineers' Atlanta Chapter and has been a safety professional since 2006.