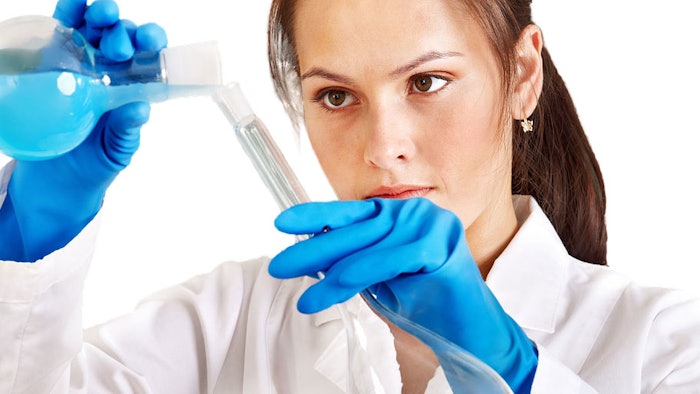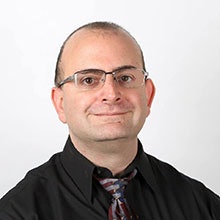 Those involved with the health and safety of laboratory workers face challenges with not only protecting employees for a number of potential hazards, but also with meeting a wide-variety of strict—and often confusing—regulations.
Creating and maintaining an affective chemical hygiene plan is a critical step in ensuring safety regulation compliance. In this article, we'll take a comprehensive look at OSHA compliance requirements and industry best practices for lab safety, and provide strategies for creating a compliant Chemical Hygiene Plan (CHP).
OSHA's HazCom Standard vs. Laboratory Standard
OSHA's Laboratory Standard covers lab workers in situations where relatively small quantities of chemicals are used on a non-production basis. Hazardous chemical use in other contexts, such as quality control testing or the production of chemicals for commercial sale, is regulated under other standards, including OSHA's Hazard Communication (HazCom) Standard.
Operations covered under the Lab Standard are subject to only a few of the HazCom requirements that other non-lab facilities are. The HazCom requirements that do apply to Lab Standard businesses include the following: ensuring that labels on incoming containers of hazardous chemicals are not removed or defaced, maintaining any safety data sheets (SDSs) received with incoming shipments of hazardous chemicals, confirming the SDS documents are readily accessible to lab employees during each work shift, and providing information and training to employees about the hazardous chemicals in their work area.
Only the non-production lab areas of your facility are subject to the Lab Standard; you also have to comply with all of the requirements of the HazCom Standard as it pertains to your other operations. The preamble to the Lab Standard states that "most quality control laboratories are not expected to meet the qualification for coverage under the Laboratory Standard" since Quality control laboratories "are usually adjuncts of production operations."
In a November 10, 2014 letter of interpretation, OSHA clarifies that research and academic laboratories meeting the criteria of 'laboratory use' and 'laboratory scale' are covered by the Laboratory Standard, not the HazCom standard.
Employers are not required to develop a Written HazCom Plan for operations covered under the Lab Standard, but instead must develop and maintain a Chemical Hygiene Plan (CHP) that addresses the methods used to ensure worker safety. The CHP is crucially important because it is essentially a "playbook" for compliance with the Lab Standard.
Required CHP Elements
To ensure your CHP is consistent with OSHA requirements, it must be written out, and can be maintained in electronic or hard copy form as long as employees know how to access it. The CHP must contain the following elements:
Standard operating procedures (SOPs) relevant to safety and health considerations for each activity involving hazardous chemical use.
Criteria for the employer to use to determine and implement control measures to reduce exposure, including engineering controls and use of personal protective equipment (PPE).
Measures to keep fume hoods and other protective equipment well-maintained and properly functioning.
Description of the information to be provided to lab personnel working with hazardous chemicals, including locations and availability of the CHP and safety data sheets (SDSs), signs and symptoms of chemical exposure, and permissible exposure limits (PELs) for workplace chemicals.
Summary of circumstances in which lab activities would require approval from the employer or employer's designee before being implemented.
Designation of personnel responsible for implementing the CHP, including the Chemical Hygiene Officer.
Provisions for additional protections for employees working with particularly hazardous substances, including designated areas, containment devices, and waste handling.
At least annual review of the plan and updates as needed.
Training on chemical safety, PPE, and measures to prevent exposure.
Medical exams and consultation, to be provided under the supervision of a licensed physician and without cost to all workers exposed to concentrations above the action level (AL) or PEL, or after an event such as a spill creates a likelihood of exposure.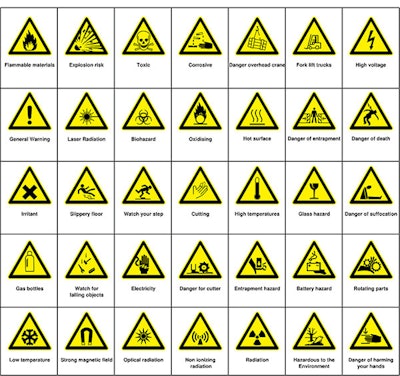 Workplace Labeling Obligations
There is no specific labeling requirement in the Laboratory Standard or 1910.1200(b)(2)—the part of the HazCom standard defining its applicability to laboratories—that pertains to secondary containers of hazardous chemicals in a covered laboratory. However, it should be noted that 1910.1200(b)(3)iii requires lab employers to "ensure that laboratory employees are provided information and training in accordance with paragraph (h) of this section."
Section (h)(1) states that "employers shall provide employees with effective information and training on hazardous chemicals in their work area," and (h)(3) specifies that training must include the physical, health, simple asphyxiation, combustible dust and pyrophoric gas hazards, as well as hazards not otherwise classified, of the chemicals in their work area.
Taken together, this information suggests that laboratory employers can only reliably ensure they are providing hazard information and training to their employees if they are ensuring adequate labeling of secondary containers, such as beakers and flasks. Those subject to the Lab Standard should therefore carefully evaluate their workplace labeling system and include the details in their Written CHP. OSHA provides some non-mandatory recommendations for labs subject to the Lab Standard in Appendix A of 1910.1450, which include relevant labeling tips.
CHP Best Practices
The requirements for a CHP may seem straightforward, but maintaining compliance is not always easy. The main challenge is keeping the plan up-to-date once completed. As new chemicals that pose new hazards enter the lab, the CHP must be reviewed and revised to account for them.
SDSs for new materials must also be obtained and properly stored, and updates to the workplace labeling system must occur where necessary. A good cloud-based and mobile-engaged chemical management solution can help with obtaining, managing, and providing employee right-to-access to SDSs—whether on- or off-line. The best solutions can also provide container-level visibility of your chemical storage footprint, which can among other benefits, help improve employee awareness of the chemical hazards to further promote safe work practices.
Software tools for inspections and audits can also help ensure that labels on all chemicals received from suppliers are not removed or defaced, per regulatory requirements. Using these tools in conjunction with well-communicated, written procedures for procurement, risk analysis and hazard communication help keep everything running smoothly.
Remember to plan for any personnel changes, too. Many compliant CHPs lose effectiveness when the individual responsible for the plan leaves the company or changes job responsibilities. Sharing the responsibility among several employees disperses the knowledge needed before turnover occurs, and enforces training plans to prepare new team members for shifting roles. This is another area where software can help to keep the right people informed by supplying and documenting all required training.
With the right planning and tools in place, it's easier to create and maintain a CHP that keeps your business in compliance with the Laboratory Standard and your workers safe.