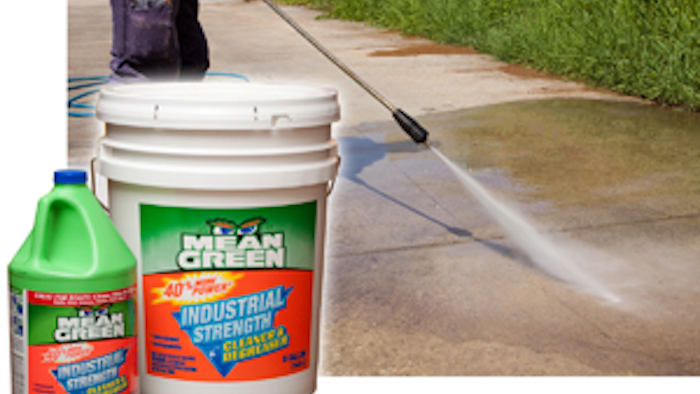 CR Brands Inc.'s Mean Green® industrial-strength cleaner and degreaser features a unique blend of biodegradable detergents, specially formulated for challenging pressure-washing applications.  According to the company:
With 40 percent more cleaning ingredients, grease and grime are quickly dissolved, while 30 percent more solvents and 20 percent more surfactants lift stubborn stains off all surfaces — including metal, painted surfaces, fabric, concrete, carpet and more.

 

Mean Green® has doubled the amount of chelating agent, for superior all-around performance.

 

The cleaner and degreaser is ideal for a wide variety of power washing applications including cleaning and degreasing walls, floors, ceilings and parking lots and walkways — all without environmentally harmful solvents.

 

This proprietary formula is tough on dirt, but because of a slow evaporation rate, it emits no harmful fumes.

With the ability to tackle multiple cleaning applications, including traditional and power-washing, Mean Green® can reduce the number of cleaning products required, saving inventory costs.
info@crbrandsinc.com  

www.meangreendegreaser.com