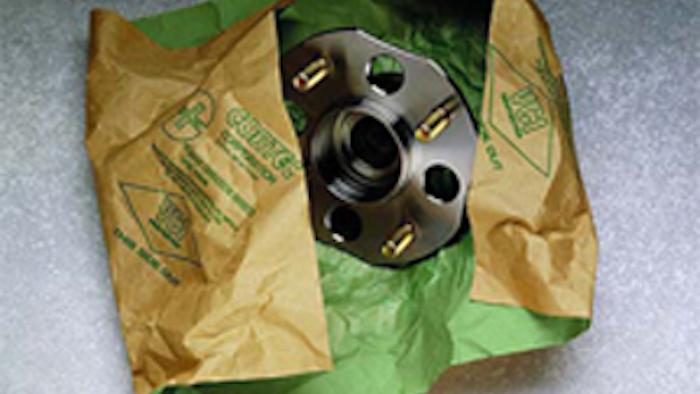 Cortec presents its VpCI®-148 paper as environmentally friendly, grease resistant, corrosion inhibiting and comprised of bio-based materials. The company says that VpCI is also characterized by:
The ability to fight corrosion at the molecular level by providing protection with corrosion-inhibiting vapors that condense onto the surface of the product, and form a thin, uniform and effective corrosion-inhibiting layer.

A bio-based coating that is fully recyclable and repulpable, unlike wax or poly-coated papers, which contribute to environmental problems.

Construction from natural Kraft paper that is free from fluorochemicals, making it much safer than traditional grease-resistant papers.

A grease resistance that is the same or better than commercial poly-coated papers as tested according to TAPPI T-454 and UM 557, as well as the capability to resist oils and solvents.

Freedom from nitrites, phosphates, silicones, chromates and other heavy metals. 

The capacity to prevent package contamination by utilizing only quality materials.

No chemical concentrations to calculate or application systems to maintain, plus no surface preparation or cleaning required.

The protection of ferrous and non-ferrous metals, dry or oiled, such as carbon, stainless and galvanized steel, cast iron, copper, solder, aluminum alloys and brass.

No need to inventory a variety of papers for each of the metals you need to protect.

Suitability for the storage and shipment of products that require lubrication, such as single-item packaging or interleaving; sheet liners or separators between products; metalworking; finished products; and metal forging and die casting.

Conformance to NACE standards TM0208-2008, RP0487-2000, military specification MIL-P-3420, TAPPI-410 and RoHS.