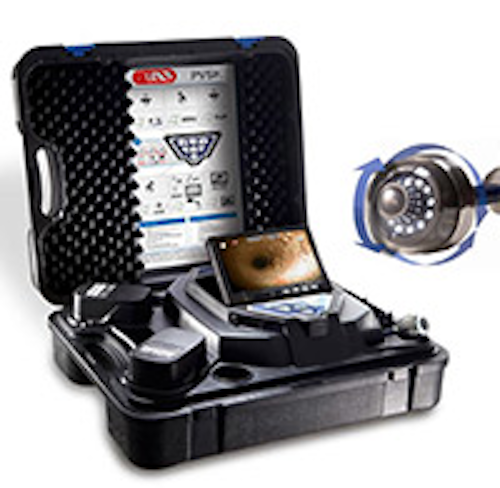 Lenox Instrument Company announces its new Advanced Portable Videoscope System for the inspection of bridges, drill pipe, turbines, airframes, power generation
equipment, process tanks and vessels, tubing and pipes, heat exchangers and hydraulic cylinders and other difficult to reach videoscope inspections. The videoscope is housed in a compact, heavy duty, carrying case and includes 2 rechargeable batteries (2 hours of continuous operation per battery) for extended use in the field and a built-in power supply/charger when AC power is available. The system features a removable, 1.5" (40 mm) diameter, waterproof (IP67), 360° pan and 180° tiltable, color CCD camera head with built-in, bright LED lighting that can be controlled from the system's control panel. Mounted to the end of a flexible, retractable, push rod the camera can negotiate 90 degree bends and inspect lengths up to 98 feet (30 m) with the retracted push rod length sensed electronically and displayed on screen. The system also includes a tiltable and removable 7" TFT monitor, built-in image recording onto a removable memory card (32GB max), and a mini USB port for quick video file transfer to a computer for viewing and playback with the included PVSK Viewer Software. A standard, built-in RCA video output is also provided.

Lenox Instrument Company, Inc.