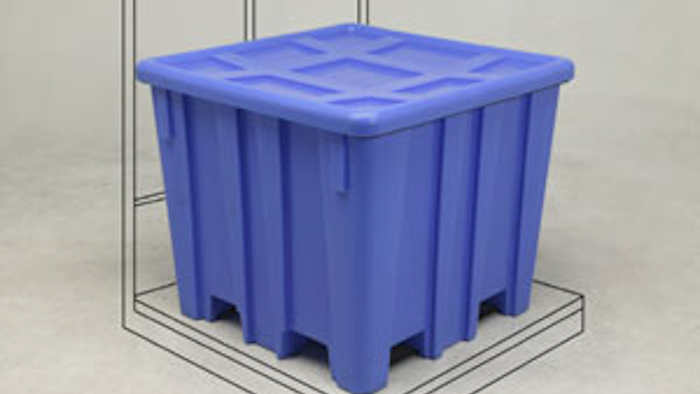 Meese Orbitron Dunne recently launched its P-433 Ship Shape™ bulk forklift container to seamlessly fit into many bulk bag fillers to permit processing, packaging and material-handling engineers to integrate rigid, reusable bulk containers into their existing filling equipment lines. According to the company, these palletless containers are further highlighted by:
The capacity to handle payloads up to 700 pounds within a heavy-duty, 1-piece bin.
Elimination of the potential for lift truck accidents due to the shifting of bagged payloads during transport, as well as for sidewall collapse during filling, which is common in flexible bulk bags, along with associated line downtime, product waste and cleanup troubles.
Convenient, 4-way lift access.
A companion cover to safeguard against dust and vapor release, while eliminating cumbersome bag tying, stitching and sealing.
Construction from a single piece of rotationally molded, 100 percent waterproof polyethylene.
A standard 44- by 44-inch footprint.
Ideal suitability for moving, handling and storing bulk chemicals and pharmaceuticals, food/beverage ingredients, mineral and rock products, and other granular, free-flowing dry products.
Availability in 16 standard colors and in custom colors in quantity.
Optional accessories that include permanent, molded-in logos, numbers and graphics, plus industrial-strength casters, fork safety tubes and tamper-evident closures.